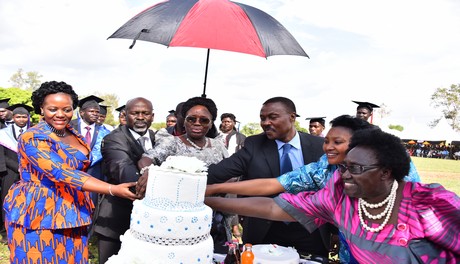 The Speaker of Parliament, Rt. Hon. Rebecca Kadaga, has appealed to parents to provide lunch to children in order for them to concentrate and excel in school.
"If a child is hungry, he or she will be thinking about other things like mangoes and will not concentrate in class. Parents, please give your children lunch, so that they can concentrate," Speaker Kadaga said.
The Speaker was speaking as Chief Guest at a thanksgiving ceremony for Kasilo County MP, Hon. Elijah Okupa (FDC) at Apapai Primary School, Bugundo subcounty, Serere district, where the best pupil in last year's Primary Leaving Examinations (PLE) scored 8 aggregates. The function was held on Saturday, 4th March, 2017.
Hon. Okupa, the area MP, started off his education journey under mango trees acting as classrooms at Apapai Primary School.
Kadaga emphasized the need for parents to understand what their children are learning. She recited a story about a lady, who, thinking that her child had excelled with aggregate 9 in each of the four subject approached her for sponsorship.

"Give time to your children to read; and make sure you look at their books," the Speaker added.
The ceremony was attended by Ministers of State for Agriculture, Hon. Christopher Kibanzanga, the Leader of the Opposition, Hon. Winnie Kiiza; FDC President, Gen. Mugisha Muntu; DP Secretary General Dr. Gerald Siranda and a number of MPs from the different political parties.
The Speaker praised Hon. Okupa, who she described as a "unique and dependable individual." She said that Okupa was not an extremist, which was exhibited by having persons from various parties and Independents attending the function.
"I look at parties as a vehicle for taking people to Parliament, we should not fight about them," said Kadaga, adding, "I assure the people of Kasilo that Okupa cares about you; he does not like corruption and does a lot of research before making his contributions."
The Speaker also said that she was working together with Kyoga Basin MPs to have the BKK ferry on Lake Kyoga up and running.
Hon. Okupa dismissed allegations made by politicians on the construction of landing sites in the area saying that only nine of the 29 sites for which an ADB loan was secured, were constructed. He said that only three of the nine were eventually commissioned.
Religious leaders at the function commended the Speaker for her stand on the court order blocking Parliament from discussing the Ushs 6 billion presidential reward to 42 public servants. The leaders also commended Parliament for the Anti Homosexuality Bill and recommended that the Bill be re-introduced for consideration and approval.