President Yoweri Kaguta Museveni witnessed the handover of 131 Prisoners of War captured by the Sudanese Peoples Liberation Movement (North) and other rebel groups fighting the Sudan government.
The event took place at State house Entebbe
Speaking before the former captives and delegations from both the Sudan government and the SPLM (north) the President expressed gratitude to both the Government of Sudan (Khartoum) for accepting the prisoners of war and to the SPLM-North for exhibiting the peace gesture.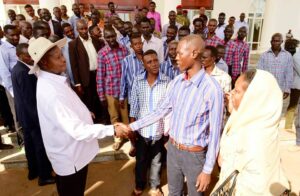 "There are certain governments that never allow to receive such prisoners of war but for this case, the government of General Bashir has" remarked President Museveni.
He commended the SPLM-North for not killing the captives. He said such acts of killing captives strengthen the enemy instead, because it discourages the others from surrendering.
The group of the former prisoners of war was released through Uganda because President Museveni was instrumental in negotiating for their freedom in an ongoing effort to usher in peace through engaging the Sudan Government (Khartoum), the SPLM-North, and the Darfur rebel fighters.