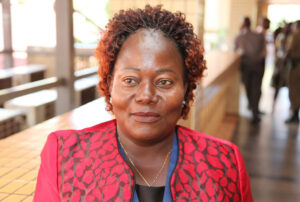 The Court of Appeal has confirmed the election of Mary Babirye Kabanda of the Democratic Party (DP) as Masaka woman MP.
Three Justices of the Court of Appeal; Remmy Kassule, Richard Butera and Elizabeth Musoke yesterday confirmed Babirye's election after finding that NRM's Faridah Nanziri Mubanda who had alleged voter bribery and falsification of results had not proved her allegations to therequired standard.
"The applicant (Mubanda) asserted that the first respondent's agent (Babirye's) Maria Naiga was arrested in Kyanamukaaka trading center with soap and money. Her witness Muguluma Vincent confirmed to have received a bar of soap and Shs10,000. A police officer Ronald Nkurunziza testified that he arrested Naiga from Kyanamukaaka and recovered from her Sugar, soap and money. Another police officer Ben Kamwesiga said he did not witness the bribery. No exhibit slips of the items recovered were tendered," the judges noted.
In the judgement, the Justices  stated that Mubanda also failed to prove whether Muguluma was indeed a registered voter. They said there was also contradiction in time as Muguluma claimed to have been bribed from his home in Kyanamukaaka while other witnesses cited different areas from which the bribery took place and yet they all stated the same time of 9:30pm. They wondered how the bribery which was done by one person Naiga could have happened at the same time but at different villages.
Mubanda had also alleged that there had been ballot staffing and that she had arrested a presiding officer Resty Nambuusi issuing pre-ticked ballot papers. The judge dismissed her allegations as false because no one ever witnessed the issuance of the pre-ticked ballots and even the Returning Officer Nathan Nabasa never attested to it.

They further found that all her agents had signed the declarations of result forms without any protest of the results and that which she presented as her DR from her agents had the same results as those from the EC. The judges further rejected her claims of falsification of results at Mukude A, Mukude B, Mukude E, St. Matia Mulumba Primary School, Mayirikiti, Kitenda A and B and Senyange B polling stations since the total number of male voters did not match the female.
The learned justices reasoned that it was an error for the numbers not to match but even if they had matched, it could not reduce the margin by which Babirye beat her. They directed that she meets all the costs Babirye and Electoral Commission incurred for having dragged her to court with no just cause.