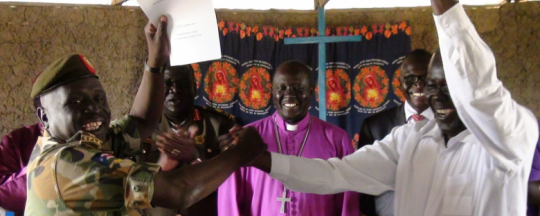 Authorities in Yei River State reached a peace deal with an armed group affiliated to South Sudan's main opposition faction led by former first vice president Riek Machar in Uganda's capital, Kampala on 6 March.
The deal was brokered by Evangelical Presbyterian Bishop Elias Taban with support from the US-based organization His Voice Global.
Speaking to Radio Tamazuj, Bishop Elias said the armed group which is based in Morobo and the state government agreed to bring about peace and stability through dialogue so as to end the ongoing war and pave the way for development in the state.
"We are South Sudanese and it is a shame for us when we agreed to separate from the Khartoum government in 2011. However, we have agreed with both the state government and the armed opposition group that it is useless to continue fighting, but lay down the arms because they have seen the suffering of our people in the camps," he said.
In a 12-page document, the armed group demanded equal representation in the national army, justice, rule of law, establishment of schools, health facilities and equal employment opportunities in both the private and government sectors.

The religious leader pointed out that the signed peace deal is a sign of the beginning of a grassroots national dialogue process in Yei River state.
He called on the warring parties to cease hostilities, allow free movement of citizens and use the opportunity of the national dialogue to restore peace and stability in the country.
Taban urged the international community and peace monitors to deliver humanitarian assistance to the conflict-affected population.
For his part, Col. John Data, the leader of the SPLA-IO group that signed the peace deal, said they agreed to implement the signed peace agreement.
He urged the government to stop the ongoing conflict and implement the peace agreement. "We need to stop the war, protect our land and protect our citizens. We did not go to the bush for anything, but we need peace and equality so that we can live as brothers and sisters in South Sudan," he said.
Meanwhile, The Governor of Yei River State, David Lokonga Moses, said he directed all organized forces in the state to cease hostilities, open up all roads and allow free movement of people.
"What we really need in Yei River state is peace and not war. We are ready to implement what has been agreed upon in Kampala in the peace document," he said.
Commenting on the signed deal, Alexander Juma, a senior field commander of the SPLA-IO forces in Morobo, said those who signed the peace agreement with the government in Kampala were representing themselves and not the armed opposition group led by Riek Machar.
He pointed out that the SPLA-IO forces in the Equatoria region are still loyal to Riek Machar.
Radio Tamazuj