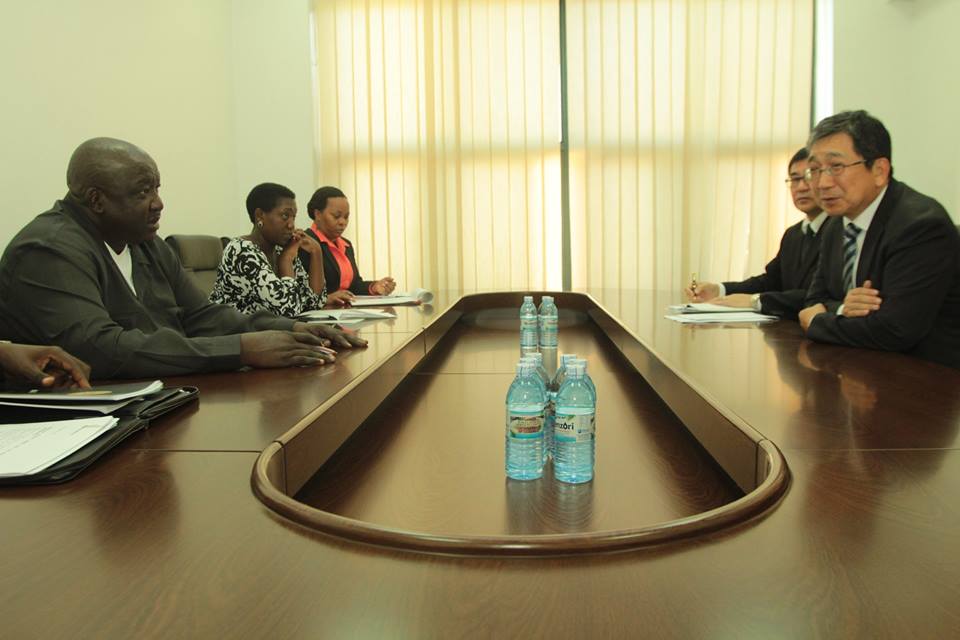 Minister of State for International Affairs Hon Oryem Henry Okello, yesterday 6th April 2017, met with the Ambassador of Japan H.E. Kazuaki Kameda at the Ministry of Foreign Affairs.
The two discussed bi-lateral and multilateral issue of mutual concern including the reform of the UN Security Council and also discussed ongoing projects in Uganda in the area of infrastructure cooperation.
Hon Okello expressed the need for early reform of the UN Security Council, pointing out the apparent lack of progress at the United Nations.
Recalling the Ezulwini Consensus he re-affirmed Uganda's full alignment with the Common African position as "full representation of Africa in the Security Council with no less than two (2) permanent seats with all the prerogatives and privileges of permanent membership, including the right to a veto (in case it is retained) and five non-permanent seats with the African Union given the responsibility to select its candidates for election."
He stressed that Africa's demand for at least two permanent seats and two additional non-permanent seats was necessary to redress the historical injustice the continent continues to suffer, as well as the right to have an equal say in decision-making on issues of international peace and security, and in particular, those that concern Africa.
He further recalled that at the end of his Presidency of the 69th session of the UN General Assembly, Hon Sam Kutesa had successfully introduced a draft decision that included a negotiating text that would, for the first time, form the basis of future discussions on Council reforms that were mandated by the Summit of world leaders in 2005.
The decision, dubbed "Kutesa Consensus" by some, was a significant step towards beginning talks on the long-stalled reforms process in the 70th session of the Assembly, on the basis of a negotiating text, following seven years of Inter-Governmental Negotiations that had been conducted without the basis of any text.

The text articulated positions of UN member states on Security Council reform and options for expansion in its permanent and non-permanent categories.
Hon Okello called for Japan's support for the African Common position as a basis for negotiations as well as the ongoing Inter-Governmental Negotiations (IGN)