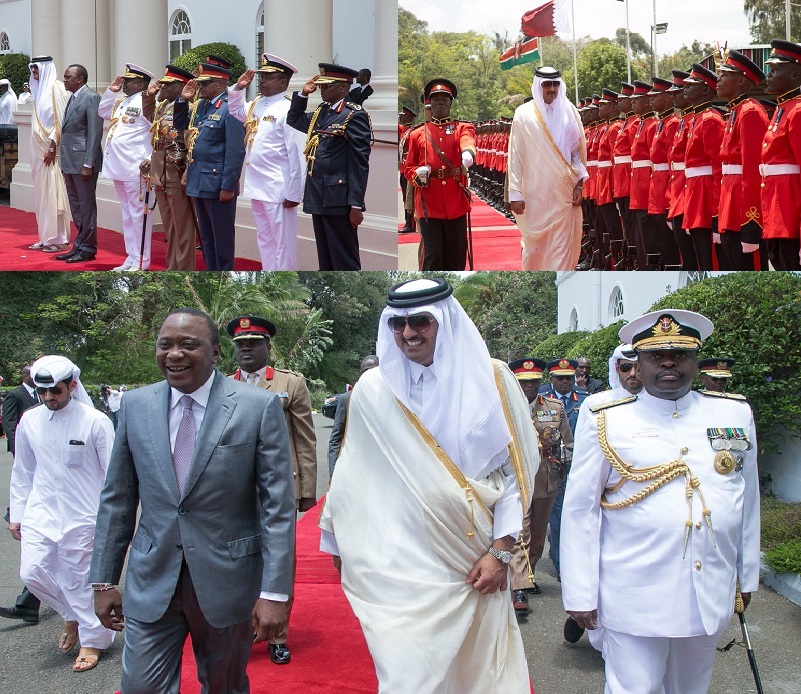 Kenya is set to witness an increased inflow of Saudi investments, especially in infrastructure, energy and agriculture.
Over 30 Saudi investors – led by Saudi Arabia's Commerce and Investment Minister Majed Bin Abdulla Alqassabi – expressed their growing appetite to invest in the country, noting the improved business environment created by President Uhuru Kenyatta's administration.
The Saudi investors spoke today at State House, Nairobi, at a meeting that saw the signing of an MOU on cooperation in paint distribution and retail manufacturing between the Akkad Systems Limited of Kenya and the Kingdom Paints Company of Saudi Arabia.
President Kenyatta welcomed the Saudi business people to set shop in Kenya, assuring them of this administration's commitment to facilitating the smooth operation of their companies.
"We have taken deliberate efforts to create a conducive environment for foreign and domestic investment to thrive side by side. We urge you to take advantage of the huge opportunities that we have created, key among them being infrastructure projects," President Kenyatta told the Saudi investors.

The President acknowledged the significant growth of trade between the two countries but emphasized the need for Saudi investors to make Kenya their investment destination of choice to bridge the balance of trade that is currently tilted in favour of the Arabian Peninsula State.
"We extend support to all foreign investors and will accord the same to business people from Saudi Arabia. It is my hope that your visit to Kenya will open channels of communication between our business communities that will lead to enhanced trade and investment relations," he said.
He said the establishment of more Saudi companies would bolster the ongoing Government's efforts to create more jobs through the setting up of manufacturing plants.
The meeting also discussed the possibility to import cheaper crude oil from Saudi Arabia and explored ways of creating an opening for Kenya to export cattle as well as beef products to the Arabian State.
Industry, Trade and Cooperatives Cabinet Secretary Adan Mohamed assured the Saudi investors that investing in Kenya will open doors not only to the local market but also to the wider regional markets of the East African Community and COMESA with a population of more than 600 million people.
Kenya's exports to Saudi Arabia include tea, coffee, vegetables, textile materials, fruits, nuts and beef among others while major imports include oil, molasses, chemical products and paper.
Leading Saudi companies present at the meeting included Al Mobty Group of Companies which was represented by its chairman Eng. Abdullah Al-Mobty, Alkorayef Group represented by Mr Saad Abdullah Alkorayef and Hmood Al Khalaf Trading and Transportation Group whose General Manager Hmood Al Khalaf attended the meeting.
Others were Kingdom Paints Factory Company and Care Group which were represented by their CEOs Mr Sultan Alqahtani and Dr Emad Al Thukair respectively.