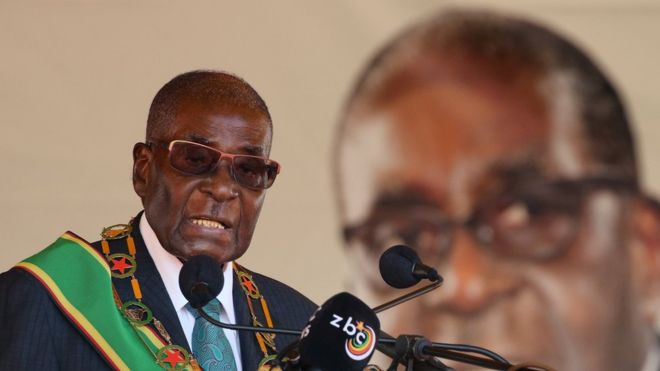 Two of Zimbabwe's best known opposition figures have agreed to form an alliance against President Robert Mugabe.
Long-time Mugabe critic Morgan Tsvangirai and former Vice-President Joice Mujuru say they will work together in next year's election.
However, it is not yet clear which of them will be the presidential candidate.
Mr Mugabe, 93, has been in power since independence from Britain in 1980 and has said he will seek re-election.
Mr Tsvangirai said the deal was a building block towards establishing a broad alliance to confront Mr Mugabe and his Zanu-PF party, which has been in power since independence in 1980.

Ms Mujuru said the MDC and the NPP had worked on the agreement for the last six months and would now start negotiating specific details to strengthen their alliance.
It's unclear which of the two will lead the coalition, and this could turn out to be a thorny issue, though most of the other opposition parties have endorsed Mr Tsvangirai as their presidential candidate.
For his part, Mr Mugabe, 93, has said he was not losing any sleep over the proposed coalition.
Zanu-PF has once again nominated Mr Mugabe, the world's oldest ruler, as its presidential candidate in the poll.
BBC