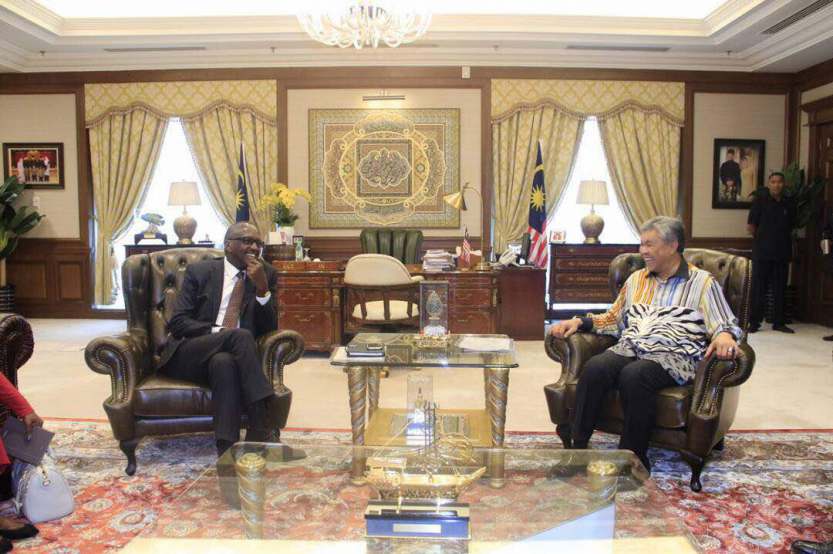 Minister for Security, Lt. General Henry Tumukunde who is in Malaysia paid a courtesy call on Deputy Prime Minister and Minister of Home Affairs of Malaysia Dato' Seri Dr. Ahmed Zahid Hamid on Friday 21st April 2017.
The two discussed bilateral issues in various areas of cooperation including technical cooperation and capacity building in the security sector.
Currently the UPDF sends one senior officer per year to Malaysia for training.
The visit comes against the backdrop strong efforts by the Government of Uganda to identify trafficking victims and stamp out this illicit vice.
Ugandan trafficking victims have in the past been abandoned in Malaysia, some en-route to Europe. In 2012, at least 600 Ugandan girls were reported to have been forced into Malaysia's sex trade in what was later recognized as a human trafficking epidemic leading to the establishment of the Special Investigative Unit on Trafficking in Persons. The Deputy Prime Minister agreed to work jointly with Uganda to fight the crime.
Since the Uganda High Commission in Malaysia opened nearly 3 years ago 181 and 24 children have been sent home through direct interventions by the Uganda High Commission.
The Deputy PM hailed what he called "successful Education Cooperation" between Uganda and Malysia stating that that there was a vibrant Ugandan Student Community in Malaysia. Since 2016, 1560 Ugandans had been recipients of Malaysian Student visas, 560 of which had been issued between January and March 2017.
Lt. Gen. Tumukunde extended an invitation to the Deputy PM to visit Uganda in the second half of next year.
He was accompanied to the meeting by out-going High Commissioner Amb. Stephen Mubiru, Mr Habib Kagimu, and officials of the Uganda High Commission in Malaysia.