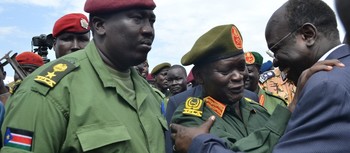 SPLA-IO Chief of Staff Gen. Simon Gatwech Dual has described President Kiir's call for a national dialogue to end the ongoing conflict as "bogus".
Gatwech told Radio Tamazuj in an interview on Sunday that the only way for peace in South Sudan is to implement the 2015 peace deal, adding that any initiative apart from the signed peace agreement is a waste of time.
Separately, Gen. Gatwech admitted that they lost about seven strategic areas during clashes with government troops since the outbreak of war in South Sudan in 2013.
He explained that they lost control of Kodok, Wau Shilluk, Waat, Ulang, Owaci, Khorfulus, and Doleib Hill areas. However, he vowed to fight back to recapture those areas soon.
"We will retake those locations by force. The government is trying to fool us with the national dialogue. Now, the international community should see the intention of the government if they are really committed to the dialogue they announced," he said.

The opposition's top general accused the government forces of committing atrocities against innocent civilians when they captured those key areas.
He called on the international community to intervene and stop human rights violations against innocent people in the country.
Radio Tamazuj