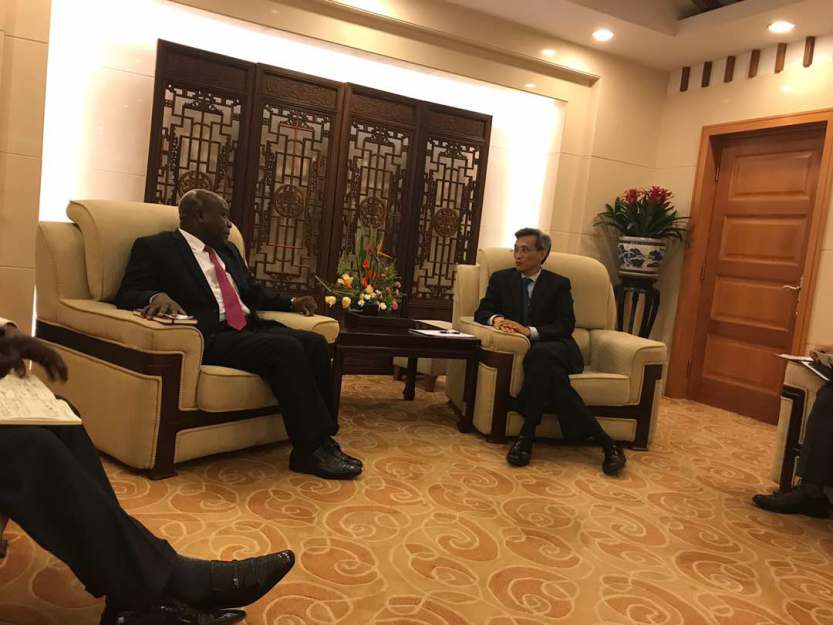 On 5th May 2017, Amb. Charles Wagdioso held a farewell courtesy meeting with senior officials of the Ministry of Foreign Affairs of the People's Republic of China.
The outgoing Ambassador accompanied by Embassy staff was received by Amb. Lin Songtian, Director-General of the Department of Africa Affairs and held discussions on a wide range of issues related to bilateral cooperation.
Amb. Wagidoso extended appreciation to the Government of China for the support rendered to him during his tour of duty. He observed that a lot had been achieved in strengthening the relationship between the two countries, including the exchange of high level visits, as well as increased cooperation in the areas of investment promotion, infrastructure development, industrialization and human capacity development.
Amb. Songtian underscored the commitment of the government of China to consolidating cooperation in the different areas, emphasizing continued support to the development of infrastructural projects such as the Standard Gauge Railway among others.
Amb. Songtian congratulated the outgoing Head of Mission on successfully completing his tour of duty.
The African Diplomatic Corps at a separate function later in the evening converged at the Kempinski Hotel in Beijing to bid farewell to their colleague.
The Dean of the Diplomatic Corps, Amb. Victor Sikonina of Madagascar, speaking on behalf of colleagues, lauded Amb. Wagidoso for his loyal service not only to the Government of Uganda but also the Africa Group.
Amb. Wagidoso in his remarks, stated that it was an honor to serve his government and while thanking his colleagues for the cooperation, he encouraged them to extend similar cooperation to his successor.
The function organized by the Embassy brought together all staff, the Ugandan Diaspora as well as selected Chinese enterprises.
Amb. Wagidoso arrived in Beijing to assume his duties on 20th April 2006 and presented credentials to the then President of the People's Republic of China on 10th June 2006. During his over 10 year service in China, Amb. Wagidoso also served as the Deputy Dean of the Diplomatic Corps in the People's Republic of China.