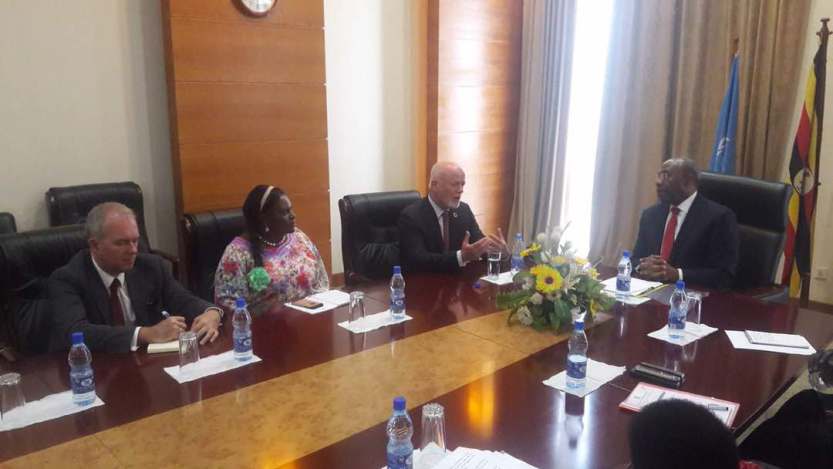 The President of the United Nations General Assembly, H.E. Mr. Peter Thomson, completed a visit to Uganda today. He met with the Prime Minister of Uganda, H.E. Dr. Ruhakana Rugunda, in Uganda's capital, Kampala, before visiting the UN's Regional Service Centre in Entebbe.
In his meeting with Prime Minister Rugunda, discussions covered regional security issues, the massive influx refugees being experienced by Uganda and Uganda's hosting of the Solidarity Summit on Refugees next month.
President Thomson thanked Uganda for its hosting of so many refugees and encouraged Uganda to take a leading role in the UN process currently underway on the negotiation of a Global Compact for Safe, Orderly and Regular Migration.
Prime Minister Rugunda highlighted the many steps the government is taking to drive implementation of the Sustainable Development Goals, including incorporation of the goals into country plans and policies.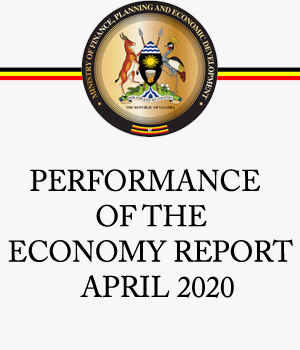 The President congratulated the government for its commitment to sustainable development and called for the international community to partner in implementation of the SDGs in Uganda. He also congratulated the UN Resident Coordinator Ms Rosa Malango, who accompanied the President to the meeting, for her office's close cooperation with the Ugandan government in the implementation of the SDGs.
Discussions also addressed the vital role of innovation and technology in the implementation of the SDGs.
'Exponential innovation in technology enables countries like Uganda to leap-frog in their development processes. Developing countries will have much to gain from attending the High-level SDG Action Event on ICT that I will convene on 17 May at the United Nations.'
President Thomson also noted that land-locked countries such as Uganda have a stake in The Ocean Conference to be held 5-9 June at UN Headquarters in New York, given that the Ocean is the common heritage of mankind. He said that many of the issues pertaining to the Ocean were also pertinent to Uganda's relationship with Lake Victoria.
In relation to reform of the UN Security Council, the Prime Minister reiterated Uganda's support for the African consensus and expressed Uganda's desire for meaningful reform measures to take place.
The President briefed the Prime Minister on the progress of the Intergovernmental Negotiations on UNSC reform and stressed that flexibility is required from all parties to enable progress during the 71st session of the General Assembly.
The President thanked Uganda for its contribution to UN peacekeeping. In this regard, the Prime Minister highlighted the important role of the UN Regional Services Centre in Entebbe. The centre provides logistical and support services to most of the UN's peacekeeping operations in Africa.
Later in the day, President Thomson toured the Regional Services Centre and was briefed by the Centre's Chief, Ms Safia Boly, and her team.
'The Regional Services Centre in Entebbe is a critical part of the infrastructure allowing UN Peacekeepers to operate in some of the most difficult environments in Africa, thereby making an important contribution to peace in the region.'