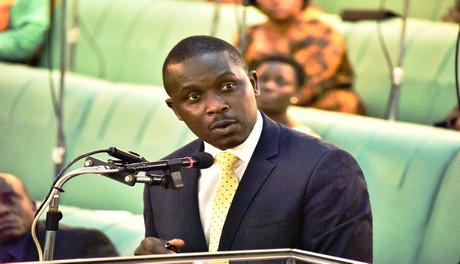 The House Committee on Health has warned of increased maternal mortality if government does not provide an additional UShs 5.4b required to increase blood collections in the country.
The Chairperson of the Committee, Hon. Dr. Michael Bukenya, said that government had provided only UShs 9.6b of the required UShs 15.1b for the Uganda Blood Transfusion Services to collect 240,000 units of blood annually. This translates into a shortage of 90,537 units of blood.
He said that the shortage came as a result of the discontinued support from the US Presidents' Emergency Plan for AIDS Relief (PEPFAR)/Centre for Disease Control, which ended in March 2016.
"This funding was meant to support blood donor mobilization, collection and processing, training and technical assistance under UBTS," said Dr. Bukenya adding that "This will lead to increased maternal mortality in the country."
Results from the Uganda Demographic and Health Survey 2016 show a reduction in infant mortality rate from 54 deaths per 1,000 live births in 2011 to 43 deaths per 1,000 live births in 2016. The report also indicated that child mortality has seen a steady decrease from 38 deaths per 1,000 live births in 2011 to 22 deaths per 1,000 live births in 2016.

Maternal mortality reduced from 438 deaths per 100,000 live births registered in the 2011 UDHS report to the current 336 deaths per 100,000 live births.
Dr. Bukenya said that "The Committee noted that government through the Ministry of Health has not yet identified alternative funding and it should be noted that lack of blood impacts negatively on the delivery of health services since blood has no alternatives."
"Without blood, we lose more people than would die in a bomb blast," he added.
The Committee recommended that government through the Ministries of Health and Finance identify alternative sources of funding to enable the UBTS collect and process the required amount of blood in the 2017/2018 financial year to "avert the likely crisis in the delivery of health services in the country."
MPs said blood collection was one item that had to be fully funded. Members also wondered whether services would remain free following the completion of rehabilitation of Mulago Hospital.
Hon. Elijah Okupa (FDC, Kasilo) said that money provided for workshops and seminars should be reallocated towards blood collection.
The Minister of State for Primary Health Care, Hon. Dr. Joyce Moriku, appealed to the "Ministry of Finance to find blood to save our mothers."
On the rehabilitated Mulago Hospital, the Minister clarified that free medical services would continue alongside privately paid for services.
"I want to assure you that services will remain free for Upper Mulago, while specialized services will be paid for in Lower Mulago," she said.
The Committee said that when the infrastructure upgrade is completed in September 2017, the super-specialised hospital will provide specialized healthcare, training and carry out research while Old Mulago will be upgraded into a National Referral Hospital to provide specialized services.