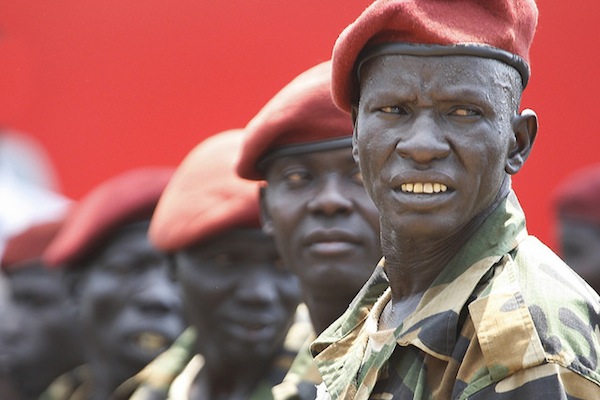 13 SPLA soldiers accused of raping five foreign aid workers and killing a South Sudanese national in an attack on a hotel in July 2016 appeared before a military court today, but the court session has been adjourned until 6 June to give the prosecution ample time to gather sufficient charges.
In July 2016, troops loyal to President Kiir gang-raped, beat, and robbed aid workers at the Terrain hotel compound in Juba on July 11 during clashes with opposition forces loyal to former Vice President Riek Machar.
20 soldiers had been accused of raping five foreign aid workers and killing a local journalist. The attack is one of the worst on foreign aid workers in South Sudan since the civil war broke out in Juba in 2016.
In his opening remarks, Chief Prosecutor Abubaker Mohammed Ramadan called on the court to ensure that justice is served in the case against the 20 SPLA soldiers accused of committing crimes at the Terrain Hotel.
"I don't have more to say, but this crime has been committed at the Terrain Hotel against foreign workers and other local members on 11 July 2016. This court should address this using the SPLA Act 2009 and South Sudan," said Ramadan.

Ramadan urged the court to ensure that the remaining seven suspects are brought to the court in the coming court sessions.
For his part, the defense lawyer Peter Malual Deng, said the adjournment of the first hearing will allow both sides to prepare for the court sessions.
Philips Anyang, a prosecution advocate has welcomed the start of the court sessions, saying it is a positive sign towards justice in the country after the case has been pending since last year.
"It is a great step because this case is on almost for a year and the whole world has been waiting for it. There were cases of rape of around five victims, they are more but the exact number is yet to be known," Anyang said.
Radio Tamazuj