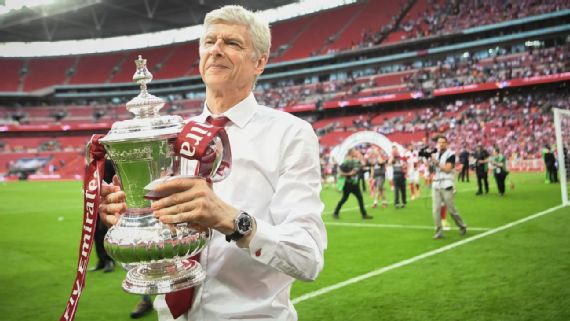 Arsene Wenger has ended speculation over his future as Arsenal manager by signing a new two-year contract at the club.
Wenger, who has won three Premier League titles since joining Arsenal in 1996 but none since 2004, extends his reign at the London club into a 22nd season and beyond.
The club announced in a statement on Wednesday: "Arsenal Football Club and Arsene Wenger have agreed a two-year extension to his contract as manager … Arsene and chief executive Ivan Gazidis have conducted a full review of our on and off the pitch activities to identify areas for improvement to build a sustained title challenge."
We can confirm that the club has agreed a new contract with Arsène Wenger https://t.co/YZcmNufFrS

— Arsenal FC (@Arsenal) May 31, 2017
Wenger said: "I love this club and I am looking forward to the future with optimism and excitement. We are looking at what we do well and how we can be stronger everywhere. This is a strong group of players and with some additions we can be even more successful. We're committed to mounting a sustained league challenge and that will be our focus this summer and next season.
"I am grateful to have the support of the board and [majority owner] Stan [Kroenke] in doing everything we can to win more trophies. It's what we all want and I know it's what our fans around the world demand."
The new deal finally ends a year of uncertainty that by Wenger's own admission badly damaged Arsenal's Premier League campaign, as the Gunners finished in fifth place after a two-month slump marked by fan protests and divisions.
Wenger has faced unprecedented criticism from fans and pundits alike this season but strengthened his case for staying in charge by delivering a third FA Cup triumph in four years on Saturday — setting a record for both the club (13) and himself among managers (seven) in the process.
He said after that 2-1 win over Chelsea at Wembley that he was still the right man for the job, and he received the backing of the club board at a meeting on Tuesday.
Wenger agreed terms on a new contract back in November but had refrained from signing it amid the toxic atmosphere among fans and speculation that the club could bring in a sporting director to limit his powers. However, he now seems to have been given the assurances he was looking for in terms of keeping the final say on all technical matters.
At 67, Wenger has insisted that his hunger for success remains as strong as ever and he had pledged to continue managing elsewhere if he could not stay at Arsenal.
The new deal is also another strong showing of support from majority owner Kroenke, who ultimately had the last word on whether Wenger should be allowed to stay on. Kroenke, who recently rejected a takeover bid from minority owner Alisher Usmanov, reportedly held a private meeting with Wenger on Monday to discuss the deal before it was ratified by the board.
Said Kroenke, who also owns multiple U.S. pro teams: "Our ambition is to win the Premier League and other major trophies in Europe. It's what the fans, players, staff, manager and board expect and we won't rest until that is achieved. Arsene is the best person to help us make that happen. He has a fantastic track record and has our full backing."