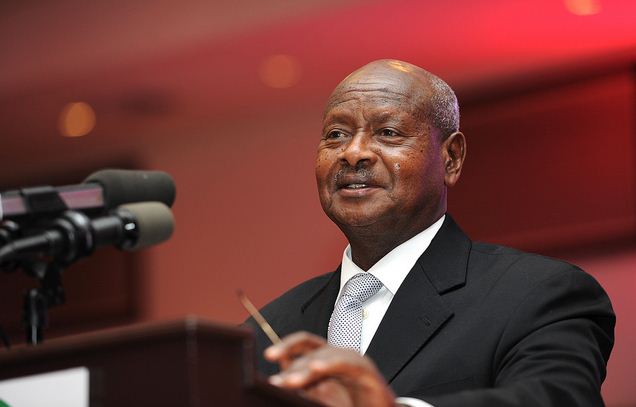 President Yoweri Museveni has promised to use the youth to transform the country.
Museveni said that the youth, who make up a big part of the population, and are idle due to lack of jobs, can be turned around with "a little bit of training, equipment and operational capital."
"This massive number of young people is a huge force for production. They should go into industry and services. Do not send them to the villages into agriculture," he said.
The President said that youth in Kalerwe, along Gayaza Road, had complained to him of being arrested for being "idle and disorderly."
"Arresting them for being idle and disorderly must stop. These youth are idle because they have no jobs," he said.
President Museveni said this while presenting an Address on the State of the Nation at the start of the Second Session of the 10th Parliament.
Article 101(1) of the Constitution provides that "The President shall, at the beginning of each session of Parliament, deliver to Parliament an address on the state of the nation." The sitting was held at Kampala Serena Hotel in Kampala.
"We should transform them (youth) into wealth creators and job creators instead of them being idle. They will save us from having to import some of these items that we use here," Museveni said.
Museveni said he had identified land in Abayita Ababiri in Entebbe where he intends to set up a manufacturing shade that will also accommodate a show room for products made by the youth.
He said that carpenters needed space to display their items, and save them from destruction by rain and sunshine.
The President said that he had used some of the funds allocated to State House, to train and equip various youth groups and had put some of it in their SACCOs. The youth groups include Najjera (Shs 337m); Katwe (Shs 375m); and Nsambya (Shs 271m).
Museveni also said that in Kampala, a group of 711 young girls have been supported with training in baking, weaving, embroidery, shoe making and knitting. He said that each six months intake costs Shs 486m.
He said that there was need to decentralize the programme to Kampala divisions to do away with having to use some of the funds for transport for the trainees.
"At the end of the training, they are given equipment to start working. They are being transformed from being idle to wealth and job creators," he said.
On peace, the President said the Army "had the capacity to ensure that nobody disturbs peace of Ugandans," and had ensured peace by defeating Kony, ADF and disarming cattle rustlers in Karamoja.
He said that the installation of cameras in towns and highways would help arrest criminals and reduce cases of lawlessness and would be prioritised.
"I call upon rich businessmen and residents of towns that can afford to install cameras around their premises and residential areas; because they greatly assist in crime prevention," he said.
He added that using the limited means in form of trained dogs, scanners, metal detectors the Police and UPDF can guarantee security against any lawlessness.
He added that the Police has been lax in in handling information provided by the public, and wondered why some suspects in the AIGP Felix Kaweesi's murder, who he said already had previously committed capital offenses, were still in circulation in the public.
The President centered his Address on five issues that he said were required to get Ugandans to prosperity. These, included peace; development of infrastructure and human resource, wealth creation, job creation; and market access. These were also the issues the NRM Party raised during the 2016 presidential and parliamentary elections campaigns.