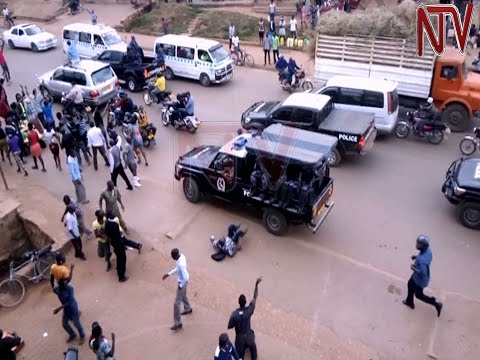 Case of the police Constable Benon Matsiko one who knocked down Besigye supporter has been acquitted.
The clearance of the case of Benon Matsiko vs IGP Kale Kayihura for a crime committed in July 2016 was due to the failure of D/SSP Katherine Kusemererwa to produce evidence that implicates that the Benon was the driver of the said car which was spotted in the crime.
Before the Judgment Benon always maintained in  his defense submissions that he was not in the car by the time of the crime, saying that I was attached to Kira police station by that time adding that some senior police officers are simply using me as sacrifice to cover up for the real victims.
The person who shot the video was very far a reason we have failed to use the available technology to identify the real person in the car says Katherine the senior prosecutor
After the video clip of a police track knocking done a pedestrian who is believed to have been a supporter of four time presidential candidate Kizza Besigye, Const. Benon was arrested on 22nd August 2016 are allegedly committing the crime.

Mr Matsiko was presented before the police disciplinary court chaired by james Odong Odongpiny facing charges of discredible conduct thus affecting the image of the police force.