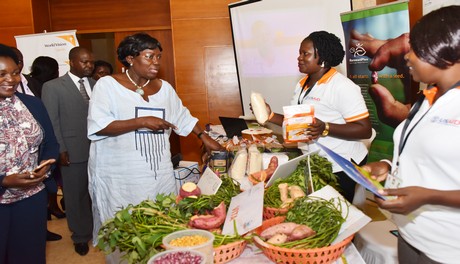 The Speaker of Parliament, Rt. Hon Rebecca Kadaga, has tasked the Parliamentary Forum on Nutrition to move a Motion to table the National Nutrition's Bill.
Rt. Hon Kadaga said on Tuesday 20th June 2017, during the Launch of the Parliamentary Forum on Nutrition said that a process has to be expedited to table the National Nutrition Bill in order to know how the country is faring in terms of nutrition.
"As a country we need to discuss what we want in regards to nutrition because the right to food is a human right," she said.
Kadaga also wondered how the communities are being guided to produce and store food for themselves.
"We have parish chiefs whom we pay, what is their role in society?" she asked

She said that the parish chiefs could be tasked to ensure that families have the basics in their homes to ensure proper hygiene and enough food for their children and themselves.
The Speaker also encouraged government, as they move to promote income generating activities; to encourage people to grow food for home consumption.
"We have talked about income generating activities like coffee and matooke growing but we have not addressed the issue of food shortage in the homes and communities," she said.
Kadaga added that people need to grow more fruits and food in order to boost their diets.
"During the celebration of the World Sickle Cell Day in Kamuli I was told the life of a person with sickle cells depended mainly on fruits and proper dieting," she said.
Rt. Hon Kadaga also advised the Prime Minister, Rt. Hon Ruhakana Rugunda that government should emphasize the basic needs and growing of food so that people have proper nutrition.
The Prime Minister, Rt. Hon. Ruhakana Rugunda in his remarks, said that government recognised nutrition as a key driver of development and a key transformation agent in line with the vision 2040.
"Citizens who are well nourished become more productive and are less susceptible to disease, hence reducing the cost of medical care and increasing the ability to invest for development," he said.
The Chairperson of the Parliamentary Forum on Nutrition, Hon. Pentagon Kamusime said that the Forum aims at eradicating stunted growth and improving food security; hence reducing poverty in Uganda.
"Right now in Uganda we have people who have more than enough and those that don't have; the ones who have are eating too much and are suffering communicable diseases," he said.
He said that the Forum will work hand in hand with the relevant institutions towards strengthening policy on nutrition throughout the country.