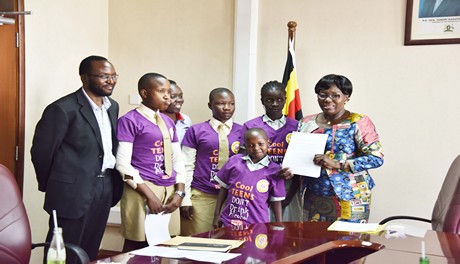 The young people of Uganda have asked Parliament to enact a policy requiring the use of National Identification at points of purchase in order to prevent underage consumption of alcohol.
In a petitioning to the Speaker of Parliament, Rt. Hon. Rebecca Kadaga, today, Friday 23rd June 2017m the children said they could easily access alcohol from kiosks, supermarkets, hotels, at parties and in the community despite the presence of a law barring its consumption by children under 18 years.
Straight Talk Foundation led the children from St. Julian SSS, Railway Primary School, Winterland Primary School and Uphill College, Mbuya who represented their other colleagues in primary and secondary schools.
"Considering that 55% of Uganda's population is below 18 years, if strict laws are not enacted against underage alcohol consumption, it could impact the social-economic development of the country," said Manwella Ayen, a pupil of Winterland Primary School.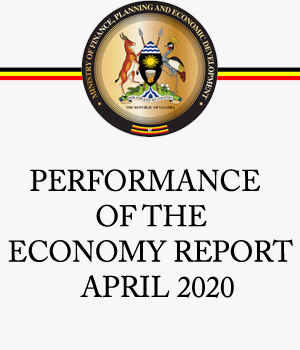 She said that alcohol abuse is a significant problem among the youth and has been identified as a risk factor for perpetuation of youth violence such as bullying, sexual aggression and other assaults.
"As a country, alcohol consumption has been identified as one of the drivers of the HIV epidemic. The absence of a comprehensive national alcohol policy makes it even harder to manage alcohol consumption in the country," added Ayen.
The children quoted research done by the Uganda Youth Development Link, which showed that 46% of youths between 12 to 18 years take alcohol, while 42% of them had already had unprotected sex under the influence of alcohol.
The petitioners also said that most times when children consume and get comfortable with alcohol, they end up seeking something stronger, which is usually drugs.
"We call upon the use of national IDs to minimize the sale of alcohol to minors. With national identity cards available in Uganda, it is imperative that an ID check is strictly observed, especially for young consumers at the points of purchase," said Paula Kaliisa of St. Julian High School.
Children also called for sensitization of opinion leaders about alcohol regulations such that they can play an active role in the control of non-compliance; and to ignite the discussion on finalizing a comprehensive national policy to manage alcohol consumption in the country.
Straight Talk Executive Director, Suzan Ajok, requested the Speaker to be their champion for the Red Card Campaign against underage alcohol consumption.
She said that everyone including parents, teachers and communities had a role to play in preventing children from abusing alcohol and drugs.
The Speaker said that the available statistics show that if government does not take action, alcohol would endanger the country. She said that the 9th Parliament had attempted to ban the production and sale of liquor in sachets but the move was blocked by some Members over business interests.
"Even the Enguli Act is old and no one is implementing it. We need to wake up and help society to live well," she said.