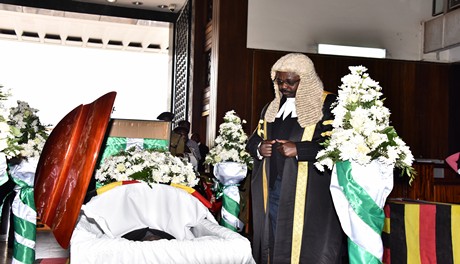 "He left a trail of positive accomplishments in all levels and positions held," the Prime Minister, Hon. Dr. Ruhakana Rugunda said in his eulogy to John Ssebaana Kizito, the former Mayor of Kampala.
In a special sitting held Thursday, 6th July 2017, Parliament paid tribute to John Ssebaana Kizito, who lost battle to a stroke at Nakasero Hospital on Monday.
This was the fourth time Parliament was paying tribute to a former leader of the Democratic Party, one of the Opposition parties in the House since December. Parliament has also held special sittings to honour Hon. Boniface Byanyima, Hon. Mathias Nsubuga and Hon. Maria Mutagamba.
Ssebaana Kizito participated in pre and post-independence struggles of Uganda before serving in various positions in government and Parliament including: the East African Legislative Assembly, National Insurance Corporation; Member of Parliament, Minister and Shadow Minister; Leader of the Opposition; Constituent Assembly Delegate; Minister in various capacities; and President General of the Democratic Party.
Dr. Rugunda hailed the deceased for his conviction for a better Kampala, Uganda and Africa; saying that Ssebaana never allowed political differences to stand in the way of serving Uganda.

"He played an important role in the struggle that brought in the NRM, and we continued to work together. Ssebaana has a special place in Uganda's democracy having made a contribution during the Constituent Assembly," said Dr. Rugunda.
"He was a strong advocate for democratic governance and contributed to the development of multiparty politics in Uganda," said Rugunda, who added that Ssebaana served with dedication and patriotism.
The Opposition Chief Whip, Hon. Ibrahim Ssemujju (FDC, Kira Munic.) said that Ssebaana devoted his life to democracy and identified causes that were worth dying for.
"He dedicated almost his entire life fighting for democracy and good governance for Uganda; and as he did so, he never injured anyone," said Ssemujju.
Legislators said that Ssebaana had inspired and motivated them into joining politics.
Hon. Obua Hamson (NRM, Ajuri) said Ssebaana was impressed by his contribution during a Children's Mock Parliament held to generate views about the rights of children.
"He shaped my political future. He told me 'you did well, you have a bright future,'" said Hon. Obua.
Hon. Muwanga Kivumbi (DP, Butambala) praised Ssebaana for his love for both Buganda and the country.
Hon. Moses Kasibante (Ind., Rubaga North) said the deceased was "truthful in politics and trustworthy in business" and left a legacy for retiring from his various positions held.
The body of the late Ssebaana lay in state for public viewing at Parliament Building before the special sitting in the afternoon, which was attended by former MPs and political party leaders.
Parliament resolved to convey deep condolences to Ssebaana's family, relatives, friends and Ugandans upon his death; and appreciate his distinguished service rendered to the country.