Controversy is one of the things that can briefly describe the Kassanda North legislator Hon. Simeo Nsubuga's life since the day he joined the august house in 2016.
Though he has appeared in different media platforms bragging to be a strong person and fully connected, a series of questions are bubbling left and right pending the controversial move of peddling the scrapping of article 102 (the presidential age limit) from the Uganda's constitution.
News reaching our desk reveal that a cross section of the National Resistance Movement (NRM) hierarchy have endlessly convened to establish exactly where the embattled legislator gets powers and vigor to front a move that even the president and top ministers seem mute and don't even want to associate with.
According to our insider, it has been revealed that as far as this issues is concerned with in the NRM tucks, it is clear that the legislator is on his own peril and move to gain cheap popularity and ntion from the president.
Sources say the no NRM structure or leadership be President Yoweri Museveni has instructed or suggested to Hon. Nsubuga to put himself in a situation that demands the constitutional amendment of article 102(b) of the Constitution of Uganda.
"MP Simeo Nsubuga is on his own move and drama. No one has tasked him with such responsibility. Not even the President. So who is he working for?? This is just a personal move, Simeo thinks that the same way Hon. Evelyn Anitte was rewarded with the ministerial position after fronting the sole candidate move is what may bounce to his side which is a wrong route because  not every day is a Sunday." An insider at the NRM secretariat revealed to us.

Speaking on how the National Resistance Movement intends to pass the controversial move, an insider confessed not being aware of any move to have the age limit scrapped but assured us that there is nothing that can stop NRM from the bill being passed if the President Museveni decides so. "But we don't need the likes of MP Nsubuga to achieve this", an insider at the secretariat added.
"I have asked you who is Simeo in the first hand, what can our party lose if he is not a member of parliament? This man who has never even met president one on one except when he was campaigning in 2015? Don't tell me that man again." the insider lambasted.
Highly indebted Nsubuga
Its on record, several politicians making a lot of noise about President Yoweri Kaguta Museveni, most times are always looking for opportunities to win sympathies which may include financial bailout, ministerial and diplomatic appointments among others.
According to the financial pay slip for MP Nsubuga from Parliament of Uganda which has been circulating on social media, indicates Hon. Simeo Nsubuga as one of the highly indebted if not the most indebted legislator in the 10th parliament.
The pay slip indicates that out of about over UGX. 33 million monthly pay to the legislators, the former police mouth piece is only able to take home about shs 2m leaving over 90% of the salary nursing loans. This has left many questions unanswered. Could this be the reason the embattled legislator is throwing himself in the media to grab 'Mzee's' attention?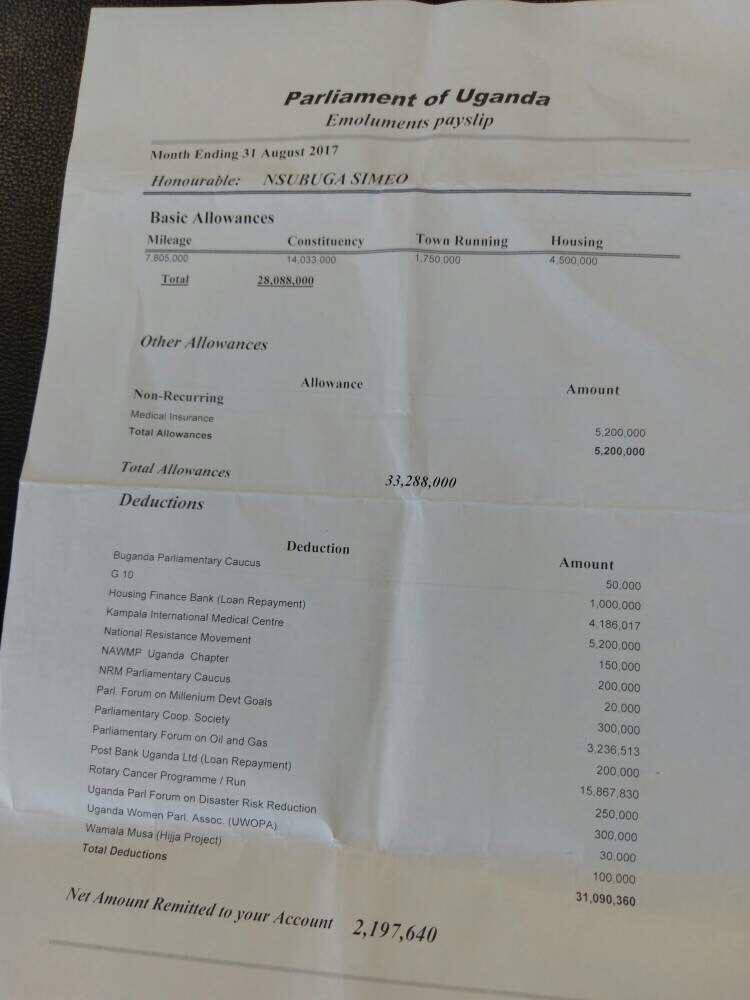 Museveni on Age limit.
In July, President Yoweri Kaguta Museveni in a press briefing for Uganda's Giants Club Conservation and Tourism Investment Forum said that any Ugandan and whoever is discussing about the removal of age limit from the constitution is idle and lacks what to do.
"Those debating age limit, what are you debating? Who has brought that proposal? Don't waste your time with people who don't have what to do, I have heard them but I am busy with my work." He said.
That day President also defended David Mafabi the Private Secretary to the President in charge of Political Affairs that his statements about age limit were made out of provocations by indisciplined groups who have been all over the media. 'What he did was counter political action' President Museveni said.
Though the Justice and constitutional affairs Minster Hon. Gen.Kahinda Otafiire said that article 102 is one of the items to be amended in the next Constitutional amendment of 2017 but still not yet whether its indeed void since there are also speculations of the head of state running for another term without even smelling the scent of the constitution.
Though government is still holding its official take on the controversial move, it has not stopped the opposition, clergy, civil society organizations and some members of the ruling party from rejecting the idea.
President Museveni who was born in 1944 according to NIRA records is currently 73 years of age meaning that the Ugandan constitution bars him from running for presidency in 2021 since he will be beyond 75years.