Smiles of hope as hundreds of children and community members in Odek sub county Omoro District receive in-kind material donation from Northern Uganda based seasoned freelance photojournalist Pat Robert Larubi last week.
This comes as a result of his cashless online social media campaign "#DressMeUp" launch two month ago in a bid to help support kids with nodding syndrome.
According to Pat, war affected Northern Uganda communities continue to experience worrying cases of the deadly "Nodding Syndrome' disease that is silently eating up the children across northern Uganda's districts of Pader, Kitgum, Gulu and Omoro.
"Nodding disease is a horrible and permanent condition which destroys children's lives. Currently, over 30 young people suffering from the deadly nodding syndrome are grounded at Hope for Humans child reception centre (H4H), a non-governmental organization that exists to provide dignity, comfort, safety and hope to the children afflicted by Nodding Syndrome, and their families.
The donation was received by Caesar Okot, the programmes manager H4H who lauded Pat for his initiative and taking a role in helping bring the plight of these affected children into the lime light.
"We all can still do something unique to help these children live decent lives. You have showed us Ugandans can, and thanks to all who contributed towards this cause" Caesar said.

Nodding syndrome is mentally and physically disabling as it affects only children between the ages of 5 to 18years – an energetic-would-be youthful generation grounded by the unknown illness.
In Pader, there are at least two to three cases per household and this is traumatizing for the family. Parents are helplessly trying to balance their daily work chores and taking care of the sick kids. Being an agronomic community ridden by poverty, some have opted for unusual actions.
Those who cannot balance work and taking care of the kids and yet they have to look for food or money to take care of the family have resorted to tying the kids on ropes as "safety measure" to stop them from wandering off or getting lost.
The very weak ones who cannot walk or even get off their death beds have been locked up in the dark rooms where they wail and wallow in pain and pangs of hunger with no one to count on. They are not sure of who will come to their rescue and when.
"My two weeks  encounter with the victims of the epidemic reveals that things are tough for these children – a neglected and forgotten world crisis!", Pat lamented.
Genesis of the Nodding Syndrome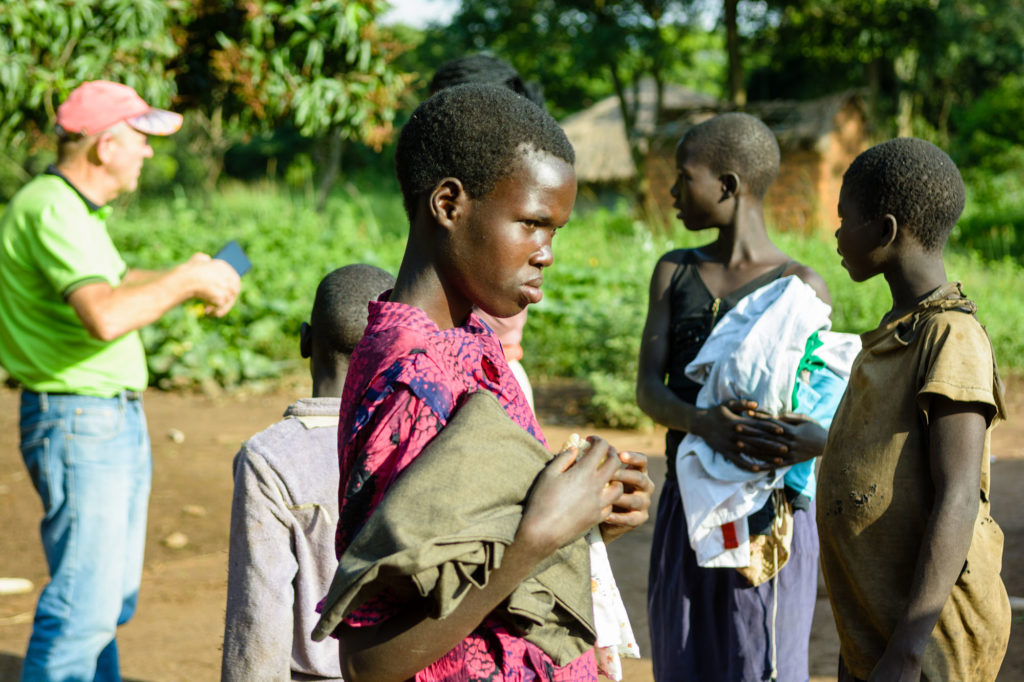 The disease first emerged in the present day South Sudan in the 1980's and is also believed to be associated with epilepsy. The disease affects children between the ages of 5 and 15.
On the onset of the disease, Hon. Beatrice Anywar, the woman Member of Parliament for Kitgum Municipality brought to the attention of the country the case of the strange disease, calling on the government to respond to this fatal illness. She even threatened to ferry hundreds of the sickly children to Mulago hospital for special treatment, but all her efforts seemingly yielded to nothing but deafening silence!
Children affected by nodding disease experience a complete and permanent stunted growth. The growth of the brain is also stunted, leading to mental handicap.
Nodding Disease, is alleged to be associated with River Blindness, a condition that affects some 18 million people mainly in Africa, but its epileptic-like symptom is what remains to be a big mystery to the medics.
All we see is a showcase of the burden of the syndrome, hardships faced by children whose lives have been shattered as they wait to die in their death beds while hope is lost by family members.
Despite all the above, some families are still striving hard to cope up with the mysteries of a disease, whose cure is far from reality as its cause has even eluded doctors finding worldwide, apart from laboratory tests and investigations with no substantive report as yet.