The Inspector General of Police Gen Kale Kayihura has issued guidelines to be followed by people planning to hold demonstrations that involve processions tomorrow in regard to the debate on the removal of the presidential age limit.
In a letter dated 20th September, Kayihura strongly reveals that there shall be no demonstrations will be allowed especially in the capital Kampala, and other cities and towns, and much less near the parliamentary building.
"Those planning to hold demos were advised to use other means, other than processions such as TV networks, radios and other electronic and print media or indoor meetings." Kayihura stated.
Kayihura says the Police caught wind of plans by some people to hold processions in Cities and municipalities around the country.
"Police has credible information that there are groups using the processions who intend to cause violence, mayhem particularly in the city including targeting parliament," Kayihura said in a statement.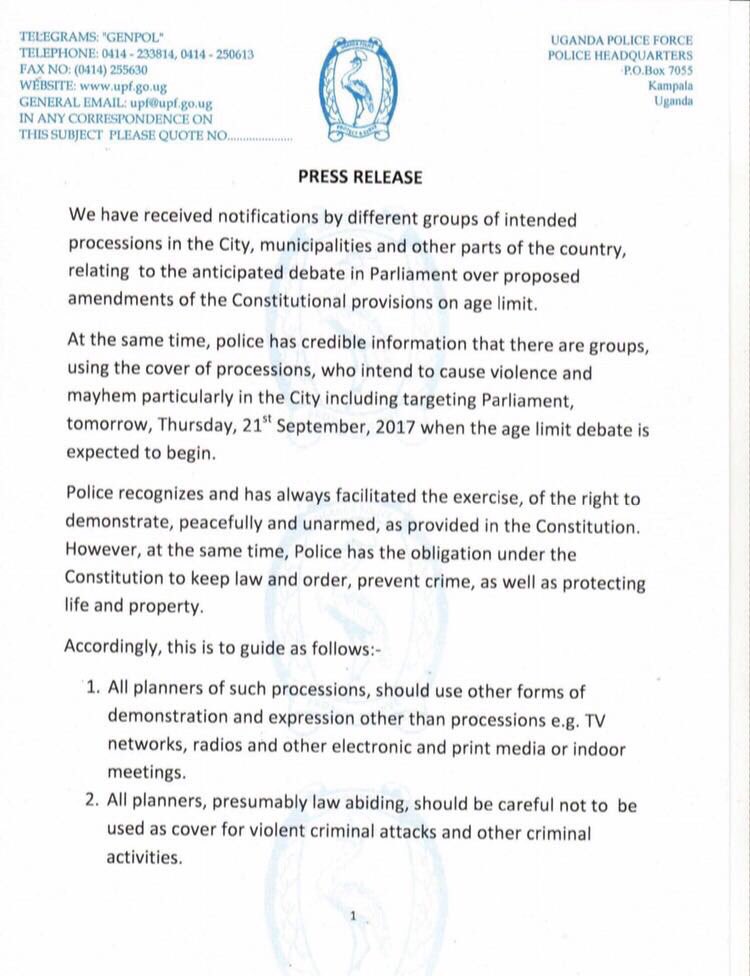 However the Forum for Democratic Change still insists to March to Parliament and deliver the party petition against the removal of Age Limit from the constitution to the Speaker of Parliament.
The party adds that it had earlier notified the Uganda Police, and the speaker of Parliament about the intenstion to hold a peaceful demonstration and they were given green light.
FACTS: Here are the copies of the letters we delivered to @Parliament_UG & @PoliceUg, also attached are copies of our delivery book. pic.twitter.com/7tBDfMqDGb

— FDC Official (@FDCOfficial1) September 20, 2017