The Speaker of parliament Rebecca Kadaga has suspended the state the State Minister for Water resources and Member of Parliament for Mukono North Ronald Kibuule for entering the chambers with a gun.
The Speaker says she has established that Kibuule brought a weapon into the House without going through the security check.
It should be noted that Minister Kubuule is one of the reasons why there was scuffle in parliament on Tuesday afternoon as opposition lawmakers suspected him and rebelled the unlawful action. This later turned chaotic resulting into exchange of blows.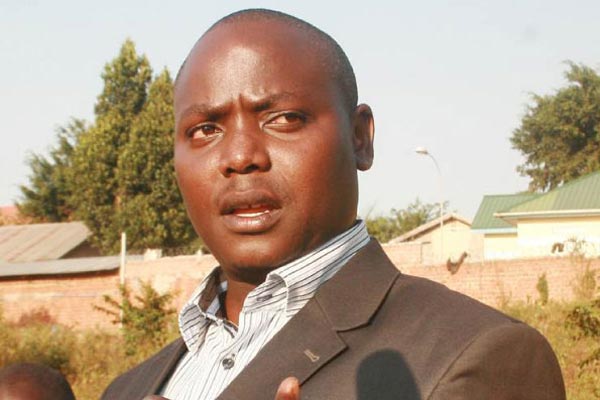 Background
Ronald Kibuule is the State Minister for Water Resources in the Ugandan Cabinet. He was appointed to that position on 1 March 2015, replacing Betty Oyella Bigombe.

From 27 May 2011 until 1 March 2015, he served as the State Minister for Youth and Children. He also serves as the elected Member of Parliament for Mukono County North, Mukono District.
In 2013, Kibuule made controversial statements indicating that police should charge the victims of rape if they are indecently dressed. While addressing youth in Kajara County, Ntungamo District, he said that police should establish the dress of rape victims and set rapists free if the victims are indecently dressed.
Kibuule considers indecent dress to include bikinis, miniskirts, and tighy jeans. His comments drew strong criticism, with Members of Parliament urging him to "have self-control", demanding an apology, and questioning why he would mislead men "by saying that it is okay for them to go ahead and rape women who put on short skirts. In a statement on the floor of the House, he minister said his statements had been misunderstood.
It should also be remembered that last year Hon. Ronald Kibuule beat up a private security guard, who had insisted that he undergoes a routine security check at a Mukono bank. The minister later, reportedly ordered the police to arrest the guard on libel offences.
Ms Hellen Obuku, a private security guard attached to Stanbic Bank Mukono, was arrested by police officers, but she collapsed as she was being taken to Mukono Police Station to record a statement.