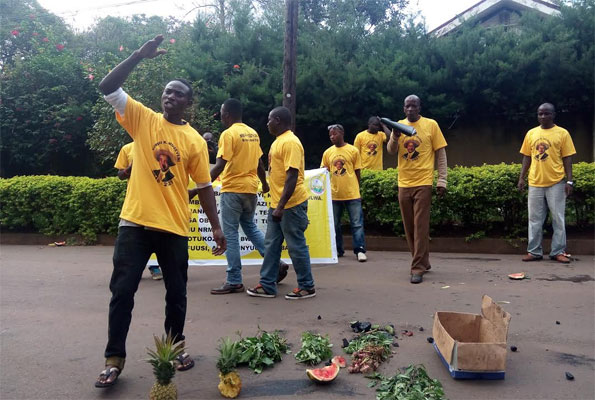 A group of National Resistance Movement (NRM) youth have protested the manner in which the executive and the party secretariat is handling the age limit issue.
In a demonstration that was held at the party headquarters in Kampala this afternoon, the disappointed youths said that for a long the party has not helped them sighting that they are like spoons that only serve their purpose when needed.
They also praised president museveni for the service he has offered to the country but insisted that he should give room to another person to lead the country since he has played his role.
"If Museveni is 75 years, let him retire in peace, he has played his role but the issue of amending the constitution will not be accepted." The Youth said.
As they proceeded with the demonstration, police had to throw pepper spray and rubber bullets to disperse them on ground that they were unlawfully holding a demonstration opposed to the public order management law.


The issue of age limit has spilt the ruling ranging from the August House where some party members believe its high time president Museveni retires before he messes up with good things he has done for the country.