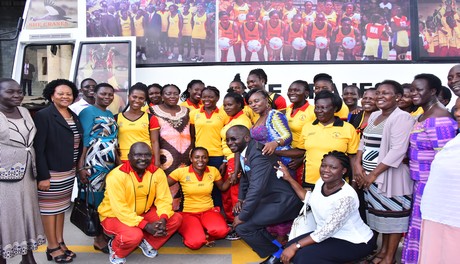 Parliament fulfilled its pledge of a bus to the National netball team, the She Cranes with the Rt.Hon. Speaker, Rebecca Kadaga handing it over.
The decision to buy the bus followed a Motion in Parliament on 11th July 2017 where legislators resolved to contribute over Ugshs 200 million towards supporting the She Cranes, after they team won the Africa Netball Championship.
Handing over the bus, Thursday, 12th October 2017, Kadaga said she was glad that Parliament had fulfilled its pledge to provide transport for the team and hoped that the Ugandan flag would now fly higher.
"I thank the Members of Parliament for their support to our gallant daughters, the She Cranes. The bus is evidence that the Members support sports. I want to implore the Uganda Netball Federation to take good care of this vehicle so that it does not breakdown," she said.
The Chairperson of the Parliament Netball Team, Hon. Jalia Bintu, (Masindi District) said that after consultation, they discovered that the She Cranes biggest hurdle was transportation.

"We consulted with the Ministry of Works and settled for this bus. The vehicle is ready to transport the team. We have serviced it, fueled it and changed the tyres and made it ready for use," she said.
The President of the Federation, Suzan Anek appreciated the gesture and called for more to the netball activities. The She Cranes are now ranked 9th in the world after winning this year's tournament.
The team will face England in January 2018 during one of the buildup matches before the much anticipated 2018 Gold Coast Commonwealth Games in Australia.