A Minister in the ministry of Finance, Planning and Economic Development (MoFPED) is reported to have survived arrest on orders of President Yoweri Museveni over age Limit cash, our Insider can exclusively reveal.
Our highly placed State House sources which divulged to us this appalling information at a point of anonymity revealed that the humble looking Minister who hails from the famous mountainous district of Uganda is walking a shadow of his life after President Museveni made him vomit his age Limit cash worth UGX10Billion a week after the controversial age limit motion was passed by Parliament.
Sources have revealed to us that the swanky minister had hit a life jack pot after President Museveni released to him UGX 10 billion cash to be delivered to the Chief Whip Ruth Nankabirwa that was meant facilitate a number of NRM MPs and careers to popularize the age limit motion.
It is said that after the ambitious minister picked the hard cash from 'Mzee', he only delivered UGX.2Billion to the waiting Chief Whip Hon. Nakabirwa and the overzealous MPs at Pearl of Africa Hotel (formerly Hilton Hotel) before sped-off into jubilation.
After delivery of the amount equivalent to the biblical tithe (a tenth) the minister is said to have ordered his driver drive at a break speed to his dear residence and locked himself in the bedroom having imagined to have secured his lifetime package just in a wink of an eye.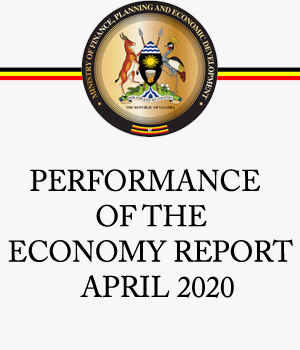 However, the Minister jubilation was short lived after President Museveni made a surprise call to Nankabirwa and inquired as to whether the UGX 10B cash had been delivered in full.
The president is said to have gotten a shock of his life when Nankabirwa told him that; "Yes your Excellency. I have received the cash of UGX.2b and I am yet to share it amongst our good carders". At this point, perplexed Museveni ordered Nakabirwa not to share or release any coin of the package to anyone unless himself orders so.
Angry Museveni then summoned the cunning Minister for an urgent meeting in State House. When he arrived, it is said that Museveni ordered the minister to vomit his UGX.10 billion or else face it rough. The fidgeting minister explained that he had already given the entire cash to Nankabirwa. "I am giving you 45 minutes, Go and bring back my money", the President told off the already trembling Minister.
The 'humble man of God' is reported to have ordered his driver to drive off at break-speed back home, picked the UGX8 billion from his residence and headed to Pearl of Africa hotel to plead with Nakabirwa for the UGX 2 billion. Unfortunately his pleas fell on deaf ear! " Ruth please help me.
The President wants that money back now now", the minister begged as Nankabirwa painted the famous 'aganzi' face! The minister then sobered himself up and rushed back to Nakasero state lodge with only UGX 8billion and a heap of excuses which the President never wanted to hear.
At this point, it's said that the Head of State piled a pack of depleting words of advice to the Minister and gave him only 14 days to have brought back his UGX.2 billion or else face his wrath.
Now our insider sources have intimated to us that the youthful minister has since mobilized the UGX 2billion and actually retuned the same to his boss amidst shame and sleepless nights. Our source further revealed that President Museveni has since changed tactics after he received several intelligence reports that billions of money have not been reaching his targeted groups and individuals to popularize the age limit amendment.
It's said that whenever he released some cash to facilitate the age limit amendment, some of his entrusted ministers would deliver half or nothing at all. Most affected of these are Members of Parliament in particular from the opposition side who have met President Museveni in secret meetings and begged for his bailouts from city loan shucks.