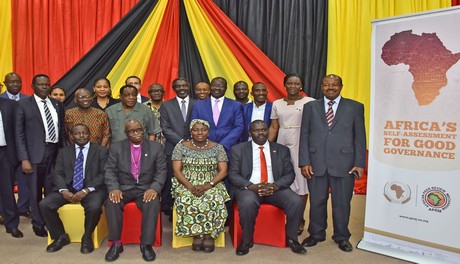 The Rt. Hon. Speaker of Parliament, Rebecca Kadaga, has said that the domineering effect political parties is hindering the growth of democracy in the country.
Kadaga, who was meeting a team of the African Peer Review Mechanism at Parliament, said that political parties tend to curtail the views and political positions of their party flag bearers.
"I was happier when there were no parties. Parties have a tendency to monitor and prevail over what MPs are saying, how, and why they are saying it," said Kadaga adding that "They have prevailed tyranny over their members hence affecting democracy. I have personally been a victim of this."
The Speaker made the remarks at the launch of the African Peer Review Mechanism self-evaluation report of Uganda on Friday, 3rd November 2017, at Parliament. She was responding to questions raised by the African Peer Reviewers on democracy and good governance practices led by Bishop Dinis Sengulane from Mozambique.
She cited the case when the NRM, the party in government, suspended some of its number and attempted to extend their decision to Parliament.

"I refused this on the premise of the Constitution; and my argument was that they did not willingly leave the party," Kadaga said.
During the 9th Parliament, the NRM party suspended MPs: Theodore Ssekikubo (Lwemiyaga), Hon. Muhammad Nsereko (Kampala Central), Hon. Wilfred Niwagaba (Ndorwa East) and Hon. Barnabas Tinkasiimire (Buyaga West). The party insisted that the four vacate their seats in Parliament but the Speaker overruled the decision, providing them with special seats on the floor of the House.
When asked about her views on the recent brawl in the House, Kadaga said that Parliament had never experienced such a fight since the first Assembly in 1962. She however explained that the misunderstanding is a reflection of tension going on in some parts of the country.
"When MPs misbehave there has to be disciplinary action taken against them; they wanted to stop a member from tabling a Bill, which action is protected by the Constitution. I took the necessary measures and suspended the MPs," she said.
On 27th Sept. 2017 the Speaker suspended 25 MPs for disrupting proceedings of the House the previous day.
Kadaga noted that there was heavy security deployment during that particular week when the Bill was introduced to Parliament.
"When I asked the Sergeant-At-Arms to guide the MPs who resisted the suspension to move out, there were some security forces unknown to me who entered the Parliament. So, I wrote to the President asking for an explanation," she said.
Bishop Dinis Sengulane said that the African Peer Review Mechanism is an organization under the African Union which is always advancing better governance through advancing dialogue amongst key players from all African states. It helps review the practice of good governance of African states.