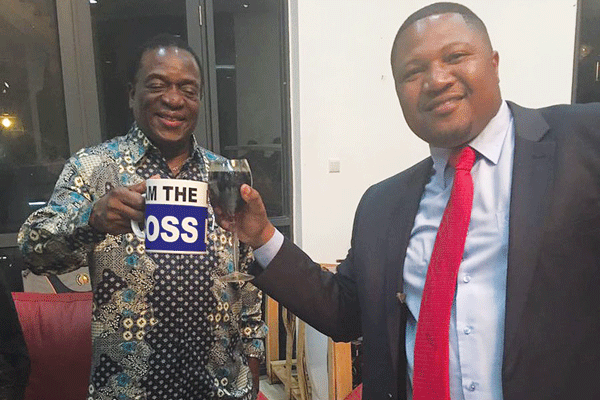 FORMER Vice-President Emmerson Mnangagwa is expected back in the country today as he prepares to take over the reins of power after President Robert Mugabe resigned from office yesterday.
Mnangagwa last night told NewsDay: "I want to congratulate the people of Zimbabwe on reaching this historic moment. Together, we will ensure a peaceful transition to the consolidation of our democracy, and bring in a fresh start for all Zimbabweans and foster peace and unity.
"As I make my way back home, I look forward together with you the people of Zimbabwe to tackle the political and economic challenges facing our beloved country Zimbabwe. God bless Zimbabwe."
Close family member Larry Mavima confirmed that preparations to welcome Mnangagwa on his return were at an advanced stage.
Mugabe in power since majority rule from Britain 37 years ago was forced out under pressure from citizens, war veterans and his party Zanu PF after two weeks of high political drama and intrigue.

The 93-year-old former guerrilla leader precipitated his political demise when he fired Mnangagwa then seen as shoo-in to succeed him on November 6 triggering a chain of events that forced the military to intervene in what became known as "Operation Restore Legacy" but what critics said was a "soft coup"
Highly-placed sources said Mnangagwa will be received by Zimbabwe Defence Forces commander, General Constantino Chiwenga, top Zanu PF officials and head to Zanu PF headquarters for a briefing.
He is expected to then proceed to meet his former staff members before proceeding to meet Mugabe for a briefing.
Mnangagwa (75), who left the country for South Africa after an attempt on his life will become Zimbabwe's second Republican Executive President just under three weeks after being fired as Vice President by Mugabe.
Canaan Banana was a titular President between 1980-1987 before Mugabe tinkered with the Constitution to install himself executive President. Mnangagwa has served under Mugabe's administration for 37 years until his sacking three weeks ago. He was Mugabe's most trusted lieutenant until the fall-out over his boss's throne.
The former Vice President just after leading the country promised to return to take the levers of power within a few weeks.
The incoming President has released two statements since skipping the country under cover first a day after he left encouraging Zimbabweans to continue the fight against Mugabe's dictatorship and promising he would return to lead the country within weeks.
Sources said Mnangagwa will not be rushed into meeting Mugabe.