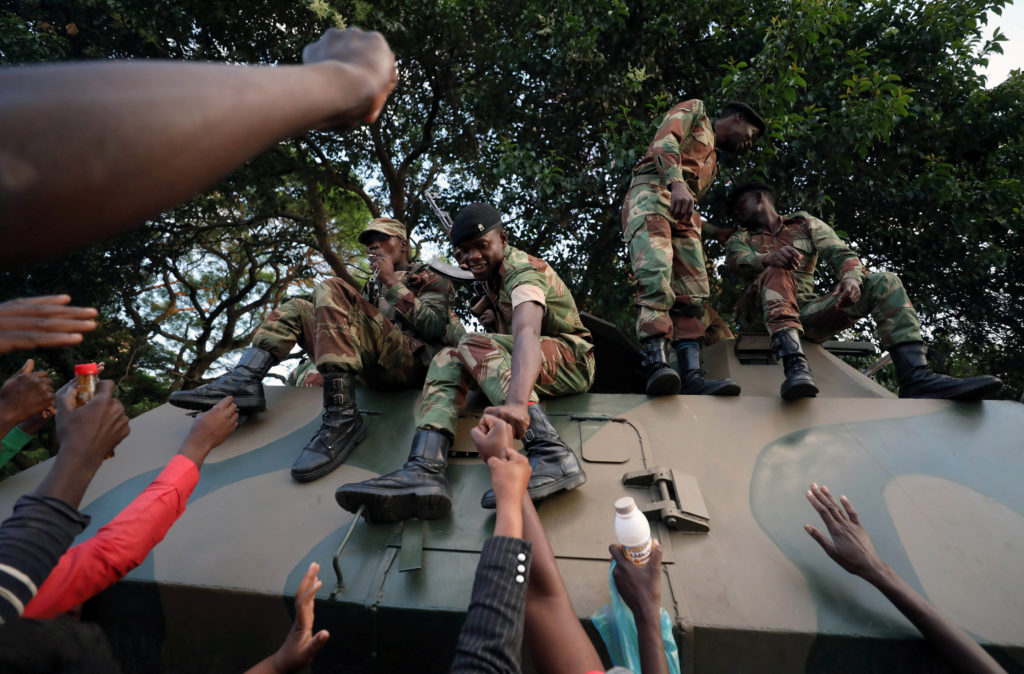 ZIMBABWEANS yesterday took to the streets to celebrate President Robert Mugabe's long-awaited resignation.
Mugabe, who has been at the helm of the nation since 1980, was forced to step down after the military took control and placed him under house arrest last week.
In Harare an ecstatic mood prevailed as soon as the news broke. Some motorists hoisted flags on their vehicles hooted while Jah Prayzah songs blazed from their radios.
Some roads were virtually impassable as motorists stopped their vehicles in the middle of the road and people danced on the streets as they shouted "Happy independence". Some vendors went wild, dishing out their wares to passers-by, while others jumped onto pick-up trucks, buses and lorries in celebration.
At Mugabe's Munhumutapa offices, flag-waving people and imbibers blocked roads as the danced to Jah Prayzah.
Others took pictures with soldiers manning the buildings.

Buses and lorries carrying people to Mugabe's office were a common feature as people celebrated. On other roads, people were driving in convoys, shouting "Happy Independence, Thank you General."
Some people could be seen celebrating on rooftops in the central business district.
Flag-waving crowds totally shut Harare down, with some dancing and drinking beer as some of the soldiers joined in.
People were calling relatives and friends, inviting them to come for celebrations at Munhumutapa Building.
The jubilant crowds also gave a standing ovation to soldiers in the city, as celebtations continued.
In Gweru, residents poured into the streets with motorists honking their horns as they joined the rest of the country in the celebrations
Ascot Infill resident James Chiseko said: 'This is a momentous occasion for us, it's just unbelievable."
A vendor, Solomon Kupfavira, said when a friend showed him the message on his mobile phone he could not believe it at first, but when he saw people celebrating on the streets that is when he joined the celebrations.
Business came to a standstill in the city 30 minutes after the news filtered, with people shouting that "Mugabe is gone", "It's over Mudhara (the old man] is gone" and "New Zimbabwe".
"It's just unbelievable given the denial of the old man [Mugabe] that he was no longer wanted by the people,"said Emmanuel Dube, an unemployed graduate who has been earning his living through selling airtime and other paraphernalia on the streets of Gweru for the past five years.
Bulawayo also came alive with wild cheers, whistling and hooting of cars as news of Mugabe's resignation filtered into the city yesterday.
"Thank God at last we have come out of this man's bondage, we hope for a new slate, and we hope for a new Zimbabwe with leaders who will listen to our concerns and aspirations," said one motorist.
There were also wild celebrations in the small farming town of Karoi when news of Mugabe's resignation filtered. Taxi drivers, vendors and the general public said Mugabe' departure was long overdue.
News Day