Uganda tourism board has provided buses to all the tourism sites to improve on transportation of tourists who come to visit these sites and also promote the tourism industry.
The tour buses were availed at the launch of the 4th edition of the Pearl of Africa Expo today in the presence of the state Minister of Tourism, Hon. Kiwanda Godfrey Ssubi, Private Sector Foundation Uganda, representative from cedpuganda / World Bank, UTB Board chairman, board members of Uganda Wildlife Authority, and representatives from different tourism associations.
"The buses and cars will enable Ugandans to travel to all tourism places across the country t low costs," said Hon Kiwanda, state Minister of Tourism in Uganda.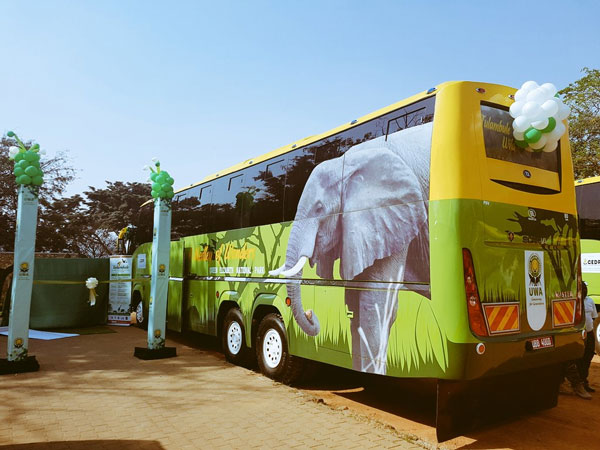 During the launch, Hon. Kiwanda acknowledged support and efforts from acknowledges efforts by the agencies under Ministry of Tourism, Uganda Tourism Board, Uganda Wildlife Authority, HTTI & the Museum, while commending the support from Private Sector Foundation Uganda and cedpuganda (World Bank) in promoting tourism in Uganda.
Much more, the CEO of Uganda Tourism Board, Asimwe Stephen applauded the support from cedpuganda and Private Sector Foundation Uganda towards these initiatives and continuous support, highlighting the FAM trip cars donated to Uganda Tourism Board and tour buses to Uganda Wildlife Authority to help promote Uganda's tourism sector.
"We promise to continue supporting Uganda's Tourism industry because it is very rich and should be developed," pledged the Executive Director, Private Sector Foundation Uganda, Mr. Gideon Badagawa.