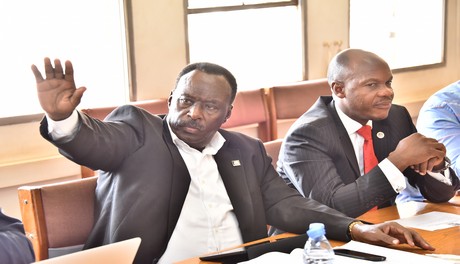 Parliament Sectoral Committees have commenced reviewing the National Budget Framework Paper (BFP) of 2018/2019, which provides the link between Government's overall policies and the annual budget.
The Deputy Speaker, Jacob Oulanyah, last week suspended plenary sittings of the House to give time to the Committees to consider the budget Paper.
He also asked Standing Committees to defer their meetings such that MPs can concentrate in the Sectoral Committee and meet requirements and deadlines in the Public Finance Management Act.
Sectoral committees will present their reports to the Budget Committee not later than 30th January 2018.
The Budget Committee is expected to scrutinize the BFP and the reports from the Sectoral committees and present them to the House for approval by 1st February 2018.

In its sitting, the Budget Committee raised concern over the fact that the BFP which was laid before Parliament lacked a Certificate of Gender Equity Compliance which is a prerequisite in accordance with the Public Finance Management Act (2015).
The Minister of State for Finance, Hon. David Bahati said that by the time the BFP was brought to the Floor, the certificate was still with the Equal Opportunities Commission.
"I request that the Committee proceeds to consider the BFP because with us, we have a copy of the Certificate of Gender Equity Compliance that we can lay before the Committee," Bahati said.
Nonetheless, the Committee Chairperson, Hon. Amos Lugoloobi (Ntenjeru North) said that, "We would be assuming the powers of the Committee of the whole House to receive the BFP with the Certificate; that in itself is in breach of the Public Finance Management Act."
The Committee then resolved to meet with the Speaker to decide a course of action on the matter.
The Public Finance Management Act stipulates that; the Cabinet submits the BFP to Parliament by 31st December; Parliament approves the BFP by 1st February; and the Speaker commits the Budget to the Budget Committee and Sessional Committee by 1st April.