"Not forgiving is like drinking rat poison and then waiting for the rat to die.", this can be the simplest statement that describe the acts of the unruly and notorious Boda boda 2010 gang that attacked innocent primary pupils last year.
This humiliating act was done in the early week of October 2017 when Boda Boda 2010, a vigilante-cum-militia outfit, whose members attacked a busload of school children because they were wearing red colours alleged to be symbolizing protest against the controversial amendment of article 102 (b) to remove presidential age limits.
Though there was no one to speak up against the illicit, the hearts of Ugandans got broken down looking on how goons can torture the future generation over no offense committed and making matters worse they even brag and swear to batter whoever comes their way.
There is still a growing public feeling that, given the impunity with which the group operates, it is working for certain regime interests and probably enjoys the unspoken protection of police chief Gen Kale Kayihura.
Kayihura, has been praised as a good cadre of the ruling NRM party by President Museveni, a description which cemented accusations that he was posted to the police with a partisan agenda, among other reasons.
But police spokesperson then Asan Kasingye distanced the group from having any affiliation to the IGP.

"Boda Boda 2010 don't work under IGP. I don't know who they are because they are not under police. You may need to cross check with Kampala Capital City Authority (KCCA)". Kasingye said.
He told journalists that he doesn't know where the group gets instructions from, and promised that the police will not allow Boda Boda 2010 Association to continue beating people, since nobody is above the law.
Kasingye said all members of this group who beat up the pupils and teachers will be arrested.
A few days later, Police arrested Isaac Mukwaya, one of the goons that terrorized the innocent children who were going to Nkumba on Entebbe Road to perform during Annual Police Week.
Kampala Metropolitan police spokesperson then, Emilian Kayima, said that Mukwaya was the first to stop the coaster along Northern Bypass and demanded for money and when the teachers and pupils failed to give money, Mukwaya and his accomplices started clobbering them claiming they were protesters.
However the question of how this matter climaxed, with the suspect getting freed without appearing before courts of laws aroused several mixed reactions.
Crispin Kaheru, a human rights defender and coordinator of Citizens' Coalition for Electoral Democracy in Uganda, called out the police over this outfit's illegal activities.
"I think parliament should summon police to testify about Boda Boda 2010 Association… If they don't know the group and the group's actions are criminal, police should arrest the members of that group. But to say you don't know who these people are and you don't take action is basically condoning the actions of those people," he said.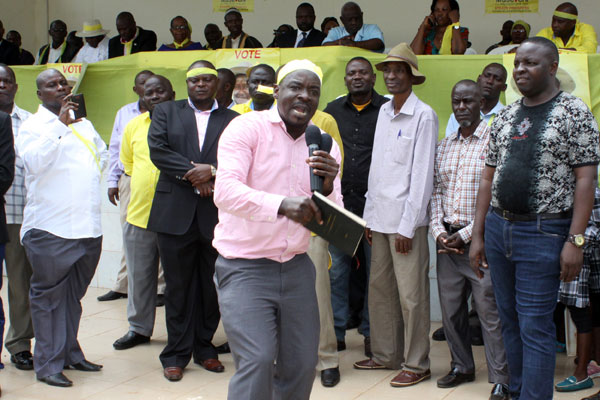 He said, from as early as 2006/7 police has seen an intrusion of various paramilitary groups like: Kiboko squad; now, Boda Boda 2010. These are clearly political paramilitary groupings, Kaheru said.
Before the crackdown on the gang on Wednesday Gen Kale Kayihura, said the group has greatly helped police to fight crime in Kampala but what was unmasked by CMI causes hundreds of questions on whether we are safe or not.
It should be noted that this gang was however arrested for allegedly participating in the gruesome killing of Case Clinic Accountant, Francis Ekalungar.
Army and defense spokesman, Brig Richard Karemire, there should be no need of looking at them as Bodaboda riders but as suspects in a crime CMI is following.
Ekalungar was kidnapped on his way to bank Shs15m and his body was discovered burnt beyond recognition in Kajjansi along Entebbe Road.