President Yoweri Museveni and the United Nations Secretary General, Antonio Guterres, have held bilateral discussions on the sidelines of the 30th African Union Heads of State summit happening in Addis Ababa, Ethiopia.
The principals discussed issues of peace and stability in the Great Lakes Region and the reforms being undertaken by the United Nations, especially on the peacekeeping front.
On the question of achieving peace and stability in South Sudan, President Museveni reiterated his position that leadership legitimacy must be derived from the people, saying the country must organize elections.
"It is the population which can hold leaders accountable. They should hold elections for this to happen," said Mr Museveni.
On his part, Mr Guterres said he would rally the international community to offer more support to the African peacekeeping mission in Somalia, AMISOM, and also briefed the President on efforts underway to reform UN peacekeeping missions.
"We want the peace missions to be more agile, more effective with better intelligence and better movement," said the secretary general. "We must also have an exit strategy for our missions."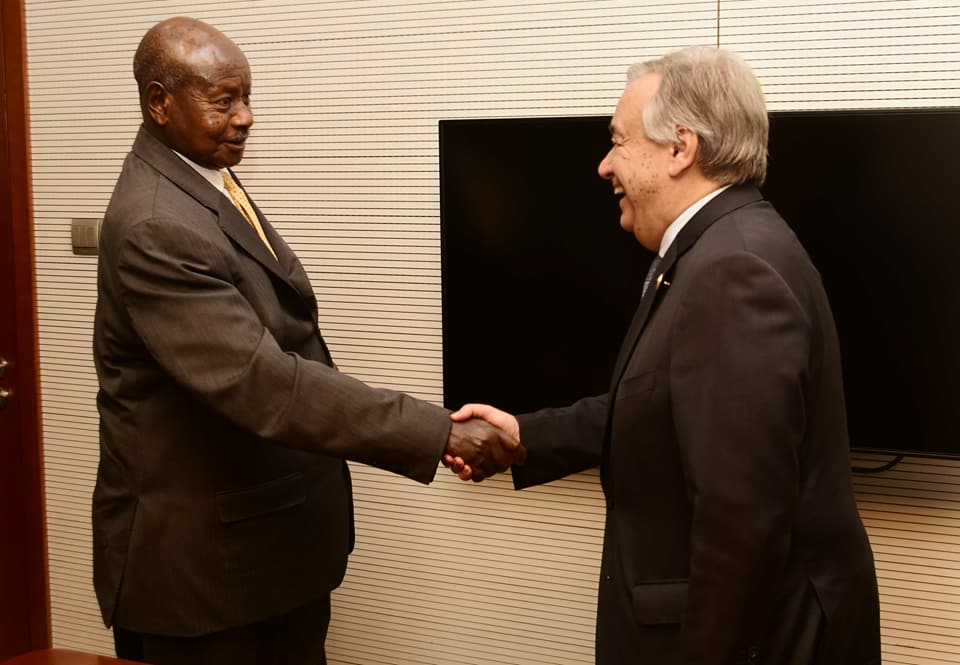 President Museveni advised that the reforms should emphasize the need for the missions to work closely with the communities they serve.
He also counseled that the UN reforms should try and address the question of "ideological leukemia", which some times has seen the UN end up supporting "sterile political opportunists".
The two leaders also agreed that they would follow up on pledges made during the Refugee Solidarity Summit in Kampala last June to ensure they are fulfilled and host communities supported.