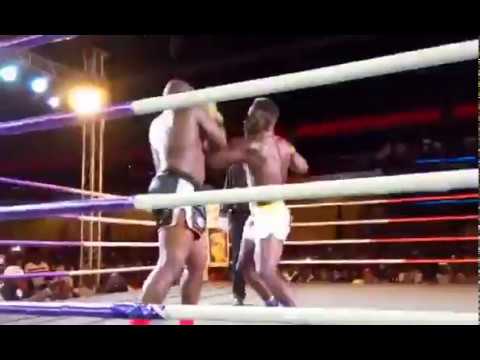 The man who hangs his clothes on electric wires, Moses Golola  was recently involved  in a fist or die kickboxing fight night against his rival Abu Kikenwa also known as 'Baby Nduya' on 17th March 2018 at Freedom City Shopping Mall, Namasuba which he victoriously won.
Since then Golola has been living on cloud nine as goes around the streets of Kampala bragging about his win,
Despite the fact that Golola is commonly known to brag about his talent, this time he has taken it to another level as he is on various media platforms calling himself various names of praise.
In one of his interviews, Golola said that Kikenwa should apologize to his supporters for completely failing them and yet they had invested their money in him.
"He always said that he is ready to destroy me but today I showed him what destruction means," he said.

It should be noted that Kikenwa has always been asking Golola for a chance to have a match against him but unfortunately he could not risk asking for another after this one match.