Former Presidential Candiadte Dr. Kizza Besigye yesterday attended the burial of Mzee Kham Kirk Karekaho Karegyesa in Kagunga village, Nyakagyeme, Rukungiri district.
Besigye described him as a strong UPC supporter who refused to defect to NRA and work with Museveni after fall of Obote II Government, where he served as Minister, Karegyesa was known as free spirited, happy, jolly, loving man.
A story is that that since the fall Obote in 1986, Karegyesa refused to touch bank notes introduced by Museveni until his death. His wife Deborah mbu handled all his money and paid for all he needed or acquired.
On his part, President Kizza Besigye eulogized him thus:
"Everybody who has eulogized Kham Karekaho Karegyesa (KKK) has given an accurate account. Whoever exchanged hands with Kham, you would look into his eyes and see a loving man.
Kham's character originates from his father, the patriarch of Rujumbura, formerly a progressive independent nation. Rujumbura united us and taught us cooperation, even when we disagree politically.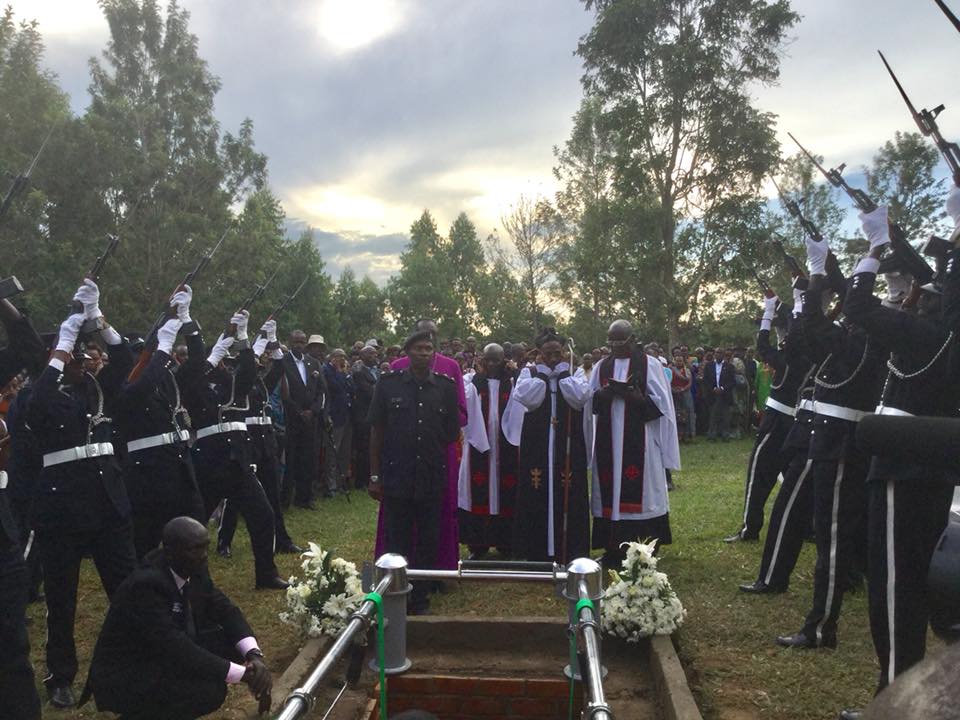 "When we talk about ONE UGANDA, ONE PEOPLE (FDC slogan) has its origins in Rujumbura. Development in Rujumbura was initiated by our leader Karegyesa and, believe it or not, development that moved on to Ankole, originated from Rujumbura.'' Besigye said.
He further described him as development oriented citing that he spent 8yrs in Parliament but in the years in parliament, he speared development projects in Rujumbura that included building schools, installing power lines and promoting dairy farming.
"Jim Muhwezi spent 20yrs in parliament and I hope he will speak on his behalf what he did for the people of Rujumbura (people laugh loudly). I am not provoking Jim Muhwezi to audit his performance but rather look at the system (NRM) in which he has served for 20yrs as MP. If the system is wrong, even if you have good development programs, they will not be implemented. Jim's biggest undoing is not to realize that the NRM system has not been helpful." Besigye added.
The four times presidential candidate also noted, "We all know UPM and NRM started from Rukungiri. The main architects of UPM were mainly from Rujumbura. We supported UPM more than the people of Nyabushozi (Museveni's home area) who rejected him on grounds that he had no property in the area.
The people of Nyabushozi rejected Museveni and supported DP and Sam Kuteesa (Foreign Affairs Ministers) but influential people from Rujumbura, including myself who was a young man, strongly supported Museveni. Besides Kasese who voted UPM candidate Chrispus Kiyonga, in the whole of Uganda, Rujumbura people posted the highest number of votes cast for any single UPM candidate (Mathew Rukikaire)."
When Museveni went to the bush, fighters from Rujumbura still followed him. I was his doctor. Our differences, therefore, cannot be personal but rather, we protest the manner in which he has governed our country.
So let us pay tribute Kham for having been an exceptional man of great character throughout his life. May God receive him in Glory!"
MC Muhoozi Charles: Dr. Besigye has taken more time. I feared to stop him because I may be denied where to pass in Rukungiri (Mourners laugh loudly).