Talented vocalist Lydia Jasmine has said that most Ugandan musicians can't sing.
Speaking during a radio interview this afternoon, the Nkubanja hitmaker said it sounds unreal but majority musicians are just lucky but not that they know how to sing.
She adds that it all begins with the vocals, lyrical concept and style where hundreds score not even 30% adding that its the reason why there high levels of copy and paste.
Lydia Jasmine is the brain behind songs like Masuuka, You and Me, Nkubanja, Drum, Sam way among others.

Who is Lydia Jazmine?
Born Lydia Nabawanuka to Kasugi William and Nakanwagi Scolastica in Mukono next to the capital of Uganda, Kampala. She later in 1995 relocated to Kyebando a suburb in the Ugandan capital Kampala to live with her grandmother after her mum and dad had divorced.

She attended Victoria Nile primary school, St Marys Namaliga and Cityland  college school for O level and then Margaret S.S for A level. She attended Multitech business school where she did a degree in business administration and management. She is also a certified peer educator.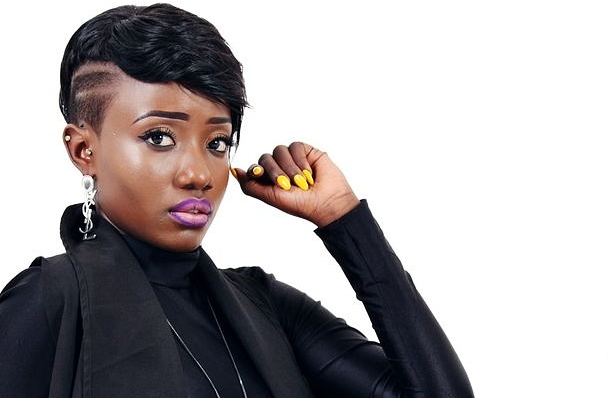 Music career
Jazmine started singing way back as a child in her high school choir, she later joined Passover harvest centre and Watoto church choirs. 2012 after her completion of High school, she joined a cover band called Gertnum, she specialized in doing covers and back up singing. She did numerous gigs and toured with artists like coco finger and Fidempa from kenya. She later while at university together with guitarist Harry Lwanga formed an acoustic group of two people doing acoustic covers in bars as a way to raise her university tuition.
In 2013 while at one of her acoustic gigs, she met Radio and Weasel producer and manager Bushingtone who later hired her as the official back up artist for Ugandan singing duo Radio and Weasel who she backed on stage and in studio. Her voice featured in backgrounds of Radio and weasel hit songs like Ntunga, breathe away, can't let you go etc. she has also backed artists like Pallaso, Sheebah Karungi, Bebe cool list is endless.
At the end of 2014 she got signed to Necta Music under the management of Bushingtone and released her first single "you know" featuring dance hall superstar Rabadaba which was her break through into the Ugandan music industry nominated for Best RnB song in the Galaxy FM zina music Awards. she featured on the Reach A Hand "if its not on its not safe" campaign song and became one of the (REACH A HAND) cultural icons in 2015 a youth led non-profit organization focused on youth empowerment programs with emphasis on sexual reproductive health, rights and HIV/AIDS awareness where she featured on an awareness song "IF ITS NOT ON ITS NO SAFE" advising the youths to always use protection against AIDS by using condoms. She spear headed youth counselling campaigns about AIDS and staying in school as the REACH A HAND (RAHU)
She is the 2015-2016 (Uganda Entertainment Awards break through artist.  Nominated in several music awards Lydia Jazmine has established herself as the hottest new voice on the Uganda music scene.
In May 2016 she appeared as the big break on the biggest musical show on African soil Coke studio Africa remixing her hot single Cherie with Nigerian super star Kiss Daniel and Bahati from Kenya.  In Jan 2017 she was listed in the 50 African artists to watch 2017 by MTV BASE AFRICA.