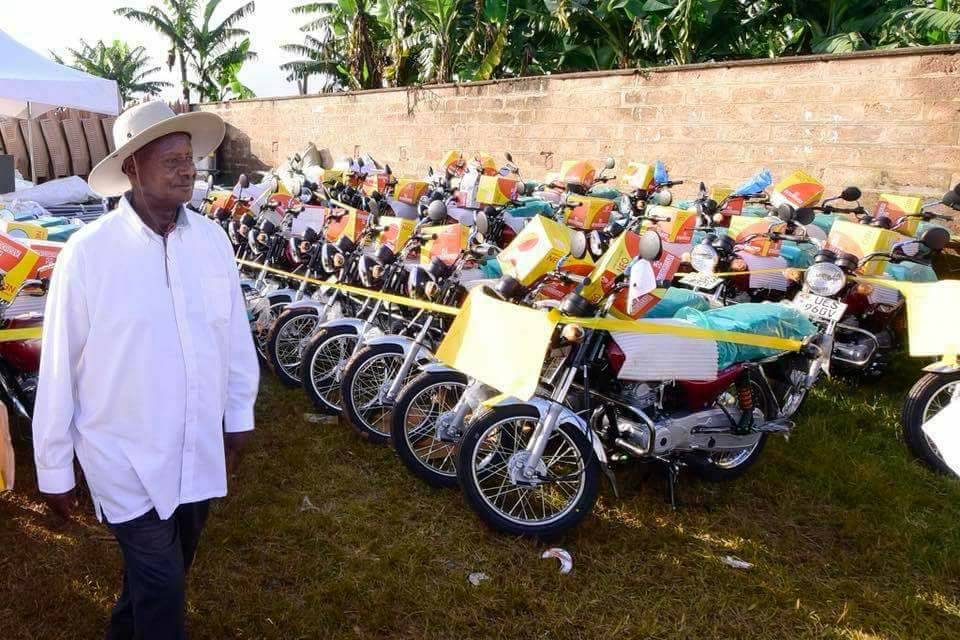 There was jubilation in the Western Uganda district of Rukungiri as the Head of State Yoweri Kaguta Museveni appeared in the area.
In a prestigious event attended by hundreds, Museveni donated goods worth 5 billion aimed at improving and uplifting people's livelihood.
Among things donated include Motorcycles, mini-buses, trucks, tractors, workshop equipment for carpenters and motor mechanics, sewing machines, Tents &chairs etc to various groups of people in Rukungiri.
According to news reaching our desk reveals that a group of men have driven all the FUSO cars donated by the Head of State back to Kampala over unclear reasons.
"All Fuso trucks and Mini Buses were driven back to Kampala last evening. We are told they had been driven to Rukungiri before registration. So, we will wait for the licensing process after which they will be brought back. We have no idea about the period this process will take." said one of the officials.

However though its being said like this, a good number of locals in area believes that these cars might have been brought in the area for public relations and publicity purposes since information on when they shall be brought back to the area is only known to the giant men that drove them back to Kampala.
Meanwhile, tractors, bodabodas, wood work machines, car wash machines, welding machines, tents, chairs, money etc have been delivered to their respective beneficiaries.
Serious fights and disagreements over money have been reported in different areas since last evening. This morning, groups of people invaded the office of the RDC with petitions, claiming they have been sidelined in the money sharing bonanza yet they are beneficiaries.
It also took Police intervention to separate the Nabugabo transporters members who were today involved in fist exchanges over 20m that was handed over to them by Mr. Museveni Yesterday.