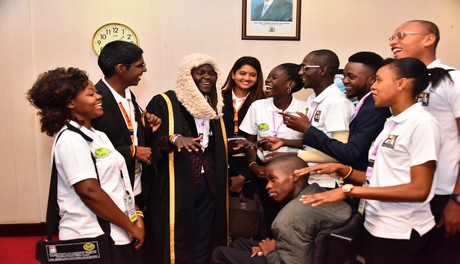 African youths want governments to take serious action to eradicate the increasing teenage pregnancies and the increasing HIV/AIDs infection rates among young people.
This, they say can be achieved through a range of interventions including increasing sex education both by parents and in schools, addressing the high youth unemployment rates and provision of youth friendly reproductive health services.
During a plenary session of the 4th Commonwealth Youth Parliament on Monday 16 April 2018, the young leaders blamed the increasing teenage pregnancies and HIV/AIDs infection rates among young people on poverty, lack of government commitment and limited awareness ."People are really putting pressure on only the girls. This must stop. It is not the girl's fault alone that she gets pregnant; sex education should be given to both boys and girls," said Shariff Imraan Swaleh (Kenya).
Shephard Simukonda (Zambia) advised governments to develop internship programmes as a means of keeping the youth engaged while enabling them acquire the skills for the job market.
"This will keep youths busy, leaving them with no room to engage in risky behaviour while addressing the unemployment problem," said Simukonda.

Yuhai Nyambusya (Zambia) warned that stopping young people from engaging in early sex is difficult, but early pregnancies and HIV/AIDs can be prevented through provision of reproductive health services.
"Youths also need to express willingness to change.  If one is not ready to change, no amount of government efforts will change him/her," said Nyambusya.
Florence Aiyo (Uganda) urged parents to complement government efforts by guiding and counselling their children.
"Parents do not want to talk to their daughters because of fear. They should accept that times have changed because children are now exposed to a lot of pornography and therefore, there is nothing wrong with talking to them about sex," said Aiyo.
Hellen Mushi Bariki (Tanzania) underscored the importance of involving religious leaders in addressing teenage pregnancies and HIV/AIDS.
"Religious leaders ought to teach youth what religion says about sex; they need to encourage young people to wait until they are married to start a family," said Bariki.
Godfrey Mugisha (Uganda) reiterated that unless governments show commitment, issues affecting youth will not be addressed.
"In Uganda for example, youths are the majority and yet we have just only five youth representatives in Parliament. How can our issues be addressed appropriately? We need these positions increased," said Mugisha.