Over the weekend, 15th April 2018, President Museveni delivered an assortment of goods, including Motorcycles, mini-buses, trucks, tractors, workshop equipment for carpenters and motor mechanics, sewing machines, Tents &chairs etc, worth more than Shs 5billion, to various groups of people in Rukungiri.
Though it has been revealed that some Associations started by opposition were ejected from the lists of beneficiaries, news reaching our desk indicates that still officials failed remove all opposition groups.
It is said that some residents of Rukungiri district who received money in liquidity have vowed to keep the money, and organized an event to chop the money with the son of the soil, Dr. Kiiza Besigye.
According to some of the beneficiaries organizing this event say that it will be held at Rukungiri stadium where the four time presidential candidate is expected to be the chief guest.
The event dubbed Mujje Tuzirye will be held on 2nd May and will start will start with a mega procession from Besigye's home to the stadium.
However according to Rukungiri, they are not yet aware about any arrangements of this event that has gained momentum in the Western District of Uganda.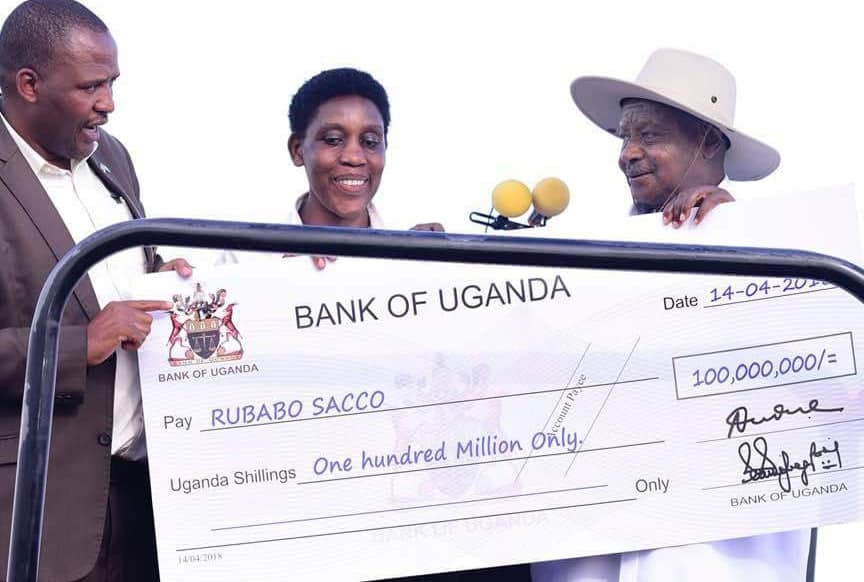 A LIST OF SOME (NOT ALL) RUKUNGIRI DISTRICT GROUPS THAT BENEFITED
Rukungiri Special Hire Pickup and Car Association- 5million
Kibimbiri Tukorere Hamwe Group – 5million
Kagashe Bamwe Development Association – 5million
Nyakihanga Tukore Namani- 5million
Rukungiri Salon Association- 10million
Rukungiri Municipality NRM women- 10million
Nyakihanga (4 groups) -10million
Rukungiri Goodwill Ambassadors- 10million
Rwakabengo 2 groups- 10million
Rukungiri cattle sellers and buyers butchery- 10million
Rukungiri Tukorere Hamwe Group – 10million
Nyakabingo RUDIFA Beika Oguze – 10million
Rukungiri Transporters Cooperative Society- 20million
Rudifa Groups – 20million
Rukungiri Municipality Boda boda Association 22 motorcycles
Kitimba Youth Drama Association- 1 mini bus
Kagashi Bamwe Development Association – 10 tents and 500 chairs
Rukungiri Garages- Garage equipment (including toolboxes, spare parts, generators) and a breakdown vehicle.
Rukungiri Municipality Tailors Association- 5 sewing machines
Rukungiri Municipality Timber Traders and Carpenters Association – Wood work machines worth 193million
Rukungiri Municipality Washing bay- 10 car washing machines
Rukungiri Welders Association- Assorted welding machines
Rukungiri Lorry drivers, Loaders and Awners Association – 20million
Kigaga – 20million
Community based Organization Farmers Association- Karangaro 20million
Mobile money groups- 20million
Uweso Tukore Namani- 20million
Uweso groups (10 clusters) 30million
Ndorero Tukore Namani Women Group – 30million
Kahororo Development Association- 30million
Rukungiri Tukorere Hamwe Food Vendors- 30million
Western Division Women Groups in Karangaro- 30million
Rukungiri Central Market Development Association- 50million
CBOT Karangaro Cluster – 50million
Kanyinya 17 groups- 50million
Ndorero 9 groups- 50M
Rukungiri Youth Development Association- 50million
Kebisoni Youth Association-5million
Kebisoni Drivers Association- 5million
Kebisoni Matooke Tuhwerane- 5million
Kebisoni Roadside Kwetungura Group- 5million
Kebisoni Coffe Farmers' Cooperative- 6million
Uganda Association of Mushroom Growers for Export- 10million
Boona Bagaigahare Nyekundeire Onion Growers- 10million
Ababeiji ba Kebisoni – 10million
Nimu Community Initiatives- 10million
Kebisoni Women's Sacco- 30million
Kebisoni Boda Boda Association- 9 bodas bodas cycles
Rwenkuba Bakyara Tukore- 10million
Katungu Women Farmers Coffee Traders- 10 million
Mabongo Central Bataka Kweyamba- 10 million
Kahoko Association (19 groups) 20 million
Nyakagyeme Boda Boda Association – 15
Boda bodas Bigangari Bateganda Group- 2million
Bugangari Piggery Group- 3million
Bataka Twezikye- 5million
Nyabitete Youth Groups Association- 5 million
Nyakinengo Tukwatanise Youth Group-5 million
Rumira Twimukye youth group- 5million
Nyakinengo Tukore Women's Group- 5million
Tukorere Hamwe Group-5million
Byenjero Bugangari Association- 5million
Bugangari Bakyara Tukore Namani- 10 million
Bugangari Devine Widows, Ophans and Elderly Association- 20 million
Bugangari Cadres Association – 20million
Buyembe Kwetungura Group- 20 million
Nyarwanya SACCO- 100 million
Bugangari Boda Boda Association- 23 boda boda motorcycles
Kanyankyende Paradise Development Group- 2 source pans, 4 food warmers, 200 chairs, 4 tents
Good Talent Youth- Music system and a truck
Rwamiraburanage Bataka Group- Pickup double-cabin truck
Nyakishenyi Youth Empowerment- 3 million
Buyangwe Development Association- 5 million
Nyakishenyi FC- 5 million
Nyakisoroza Youth Development Association- 10 million
Nyakishenyi Constructors and Carpenters- 10 million
Nyakishenyi Twombekane- 10 million
Mihenvu SACCO- 100 million
Nyakishenyio Bamukaka group- 15 tents, 750 chairs
Katonya Women Development Association- 8 tents and 450 chairs
Nyakishenyi Boda boda Association- 13 boda boda motorcycles
Engabo za Kigezi Youth Cultural Performers- Truck
Nyakishenyo Coffee Growers Cooperative- Truck
Ruhinda Women Group Making Soap- 5million
Nyamwimuka Development Association- 20 million
Rwamugoma Development Association- 20 million
Ndere Development Association- 20 million
Rwenshaka Sacco- 100 million
Rwoya Central Group- 200 chairs, 4 tents
Nyakitabire Catering- 2 source pans, 4 food warmers, 30 dozens of plates, 5 tents, 250 chairs
Burombe Development Association and Catering- 4 source pans, 88 dozens of plates, 350 chairs, 5 tents
Ruhinda Boda boda Association- 10 boda boda motor cycles
Ruhinda Nyakitabire Development Association- Truck
Kicwamba Development Association Farmers- Truck
Nyarushanje Karama Bakyara Twimukye- 5 million
Bwanga Women's Development Association- 5 million
Bwanga Universal Disabled Group 5 million
Rubabo Peoples' Sacco- 100 million
Nyarushanje Boda boda Association- 17 boda boda motorcycles
Ndago Gospel Singers Association- Mini bus