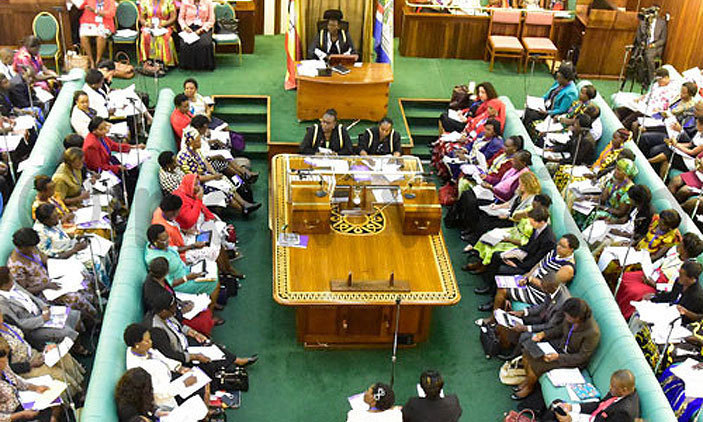 Minister of State for Primary Health Care Dr. Joyce Moriku Kaducu has for the first time spoken out on allegations that she was poisoned.
Moriku, also Moyo District Woman MP fell sick in November last year before she was on December 06, 2017 flown to Agha Khan Hospital, Nairobi for specialized treatment after being on life support at International Hospital Kampala (IHK) for a week over suspected food poisoning.
The humble speaking minister returned from a 6 week coma and was discharged early this year andon Thursday made her maiden appearance on the floor of Parliament since she was hospitalized. In her statement, Moriku revealed that indeed foreign elements were found in her body to prove that she was indeed poisoned.
"I thank God because I stand here as a living testimony, as a miracle, not a coffin standing before you to be prayed for. Indeed it's true that I was sick for a while from November up to February. I have gone through a series of hospitals that include Platinum, Mulago, IHK and Aga Khan until I slipped into a coma for 6 weeks," Moriku said.
"As an advice, let's take care of ourselves, know what you eat, where you eat, and with whom you eat, know what you drink and where you drink. You can't prove a friend until really its intimate friend, I can say that yes it started with issues of food poisoning but later on indeed it's true that foreign elements were found in my body. All medical tests done from all the hospitals did not come up with a natural cause of illness," she said.

It is worth noting that just last week, another MP were reportedly rushed to the hospital over suspected poisoning. Budiope East MP Geoffrey Dhamuzungu was admitted at Case Clinic on allegations of food poisoning.
Deputy Speaker Jacob Oulanyah indeed confirmed this, but said that the embattled MP has now been discharged from the hospital.
"Our own colleague Hon Dhamuzugu Geoffrey, Budiope East MP has been hospitalized at Case Clinic due to suspected food poisoning, but am happy to report that he was discharged from the hospital, last Saturday, 26 April and he is recuperating at his home. I urge you (MPs) in the spirit of parliamentary solidarity to check on him or send messages of support," Oulanyah said.
These poison concerns did not go well with Dokolo Woman MP Cecilia Ogwal, who tasked MPs to take keen interests in the administration of the environment of parliament.
"The issue of food poisoning or poisoning is not new in this parliament. There are times when reports were officially made to the Speaker for attempted poisoning of some members. That matter was shelved for they thought it would embarrass the image of parliament, but however much it embarrasses us, let's talk about it," Ogwal said.
She added, "Let's know how our people are being poisoned, whom can we trust and where can we go. We have decided that we eat from our own restaurant and relate with ourselves, but now it's being proved that even the environment we live in is not safe. It's important we know the administration of our restaurants, know the people who handle our food."