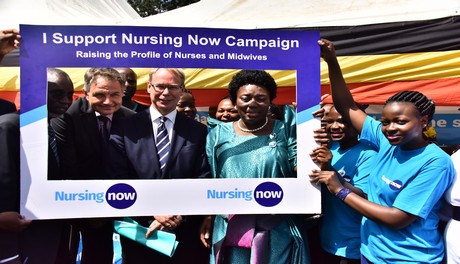 Speaker Rebecca Kadaga has asked MPs to lift the ban on recruitment of health workers, saying the Ministry's decision to effect the same is unreasonable.
For over 40 million Ugandans, said Kadaga, the issue of understaffing health centres cannot be entertained, and that the drive to better remuneration should come alongside new recruitments.
"I urge you to reverse this ban on recruitment of health workers. How can a country of 40 million people ban recruitment of health workers? In this budget, you need to put your feet down on this," said Kadaga, who was Chief Guest during celebrations to mark the International Day of Midwives held in Jinja district on Sunday 6 May 2018.
The day was celebrated under the theme "Midwives leading the way with quality care," with various diplomats in attendance calling for better working conditions for nurses.
Citing financial constraints and the need to endure better remuneration for health workers, government slapped a moratorium on recruitments in 2012, sparking sustained criticism.

Government is currently considering a move to import and recruit Cuban medical doctors, a proposal criticised by Ugandan health professionals, politicians and the public.
Kadaga said the Ministry of Health should be serious about achieving goal 3 of the Sustainable Development Goals. The goal seeks to "ensure healthy lives and promote wellbeing for all at all ages".
She said in the process of considering the next Financial Year's budget, care should be taken in so far as the plight of midwives is concerned.
Kadaga said that MPs should use their powers to prevail upon the Health Ministry and end the "crisis".
Health State Minister Sarah Opendi said nurses are perennially fatigued, leading to frustrations that can be fatal in delivering mothers.
"The problem is that they are stressed at their workplaces. You find a midwife working for 24 hours and sometimes the supplies are missing," said Opendi.
Opendi said the ratio of midwives to the mothers they deliver is low, with 12,000 midwives minding over 1.6 million mothers.
She said the Ministry is working towards better working conditions and staffing, urging the midwives to be patient and serve in the current conditions.
Swedish Ambassador to Uganda Per Lingarde said his country has trained 500 midwives, and reiterated their commitment to support nurses in the country.
The function was attended by MPs on the Committee on Health, local leader and the World Health Organization Country Representative to Uganda, Dr. Wondimagegnehu Alemu.