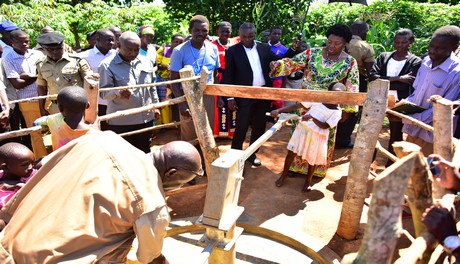 The Speaker of Parliament, Rebecca Kadaga, has appealed to legislators to sensitize the public about the dangers of brutality against women.
In her communication from the chair on 8 May 2018, Kadaga asked MPs to unite in support for women's welfare.
"You need to sensitize your publics on domestic violence," said Kadaga adding "Women are battered most during the harvesting season and when they delay to return home from far away water sources; children are battered as well."
Kadaga said that during her recent domestic tours in Mitoma, Kamuli, Lyantonde, Buhweju and Kagadi, she had noted that domestic violence was on the rise in the country. She said that government and Police needed to know what was happening in the country and take remedial measures.
She further said that the lack of water for humans and animals consumption in the cattle corridor has led to more battering of the women and children, who go out in search of water.

Let us look at the welfare of the women and at improving their livelihoods, in line with the SDGs," she said.
Meanwhile the Speaker has directed Parliament Sectoral Committees to expedite and complete the consideration of bills before them by the end of the second session.
The Speaker said that business was clogging up in committees yet it required conclusion before the start of the third session.
The Second Session of the 10th Parliament ends later this month, while the Third Session starts in early June with the President's presentation of the State of the Nation Address.
The Parliament Rules of Procedure provide that Sectoral Committees shall examine bills referred to them and report to the plenary within 45 days.