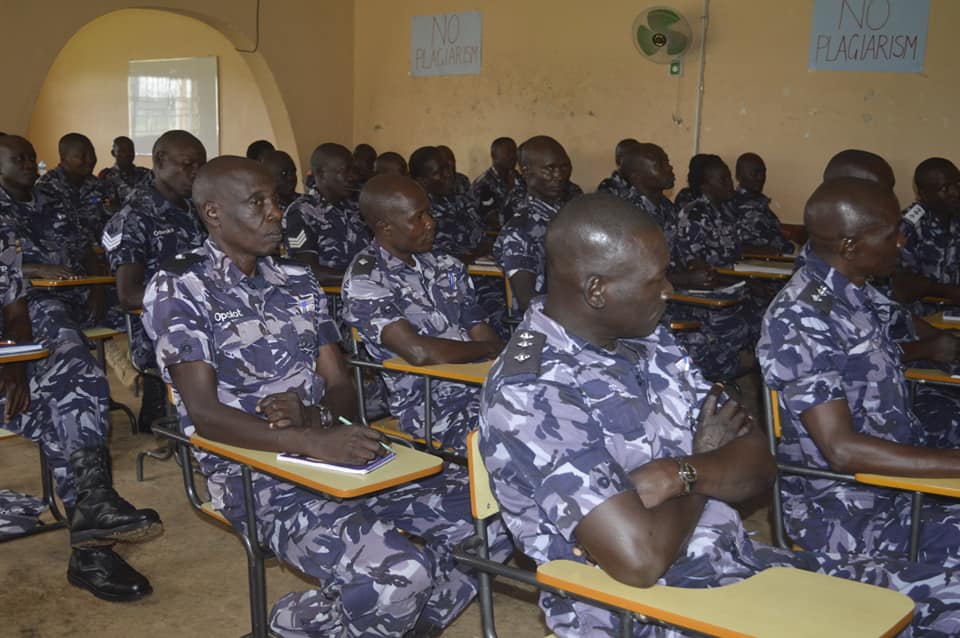 A total of 38 Police Officers have completed African Union AU/United Nations (UN) mandatory pre-deployment training for peace keeping Mission in Somalia.
The officers have been on a one week training at the Police Senior Staff and Command College Bwebajja in Wakiso district. The course is basically for commanders.
Speaking at the closing ceremony, Associate Training Officer Support Office in Somalia (UNSOS) Mrs Joyce Mbugua thanked the Uganda Police Officers for being disciplined during the training.
"I want to take this opportunity to thank you for being very disciplined I have interacted with you for a few days but I want to tell you that am totally impressed with your behavior and all I can say is that we are taking to Somalia a very good group," Mrs Mbugua noted.
"Take this topics seriously, go back and transfer the knowledge acquired don't keep it to yourself transfer the knowledge to other people that you will be interacting with in Somalia, is not an easy mission but with your determination and hard work you will make it," She said.
She added that, "As you go to Somalia always remember that you are carrying the flag of Uganda so go and make an impact and leave an impact, we want you to be remembered for the service that you provided to the people of Somalia and we will be there to support you in anyway."

Commissioner of Police in charge Peace Support Operations, Martin Amoru urged the officers to have the knowledge, skills and the right attitude towards work during thier mission in Somalia.
He urged officers to be determined and persistent.
"You can never succeed if you don't have great persistence , determination you need to be fully committed to complete the duties assigned to you."he noted, adding,
"Communicate effectively with all stakeholders develop coalitions you cannot work alone ,form a network it will help you ,communication is a glue that keeps the organization moving."
The officers have been trained in AMISOM legal mandate , and framework , international law , Somalia cultural awareness , overview of Somalia conflict and political history , health and safety, media and communication skills among many others.