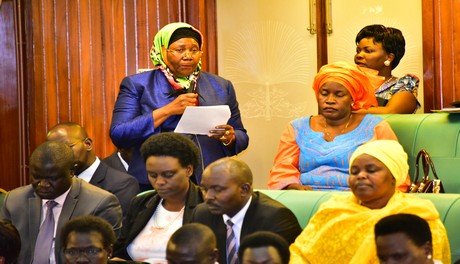 The Minister of State for Finance, Hon. David Bahati, has said that the government has issued regulations to support Islamic Banking in Uganda.
Bahati made the revelation while updating Parliament on the progress of the implementation of Section 1 (a) of the Financial Institutions (Amendment) Act, 2016, which provides for an "economically equivalent Islamic financial business subject to any restrictions specified by the Central Bank".
The Speaker of Parliament, Rebecca Kadaga, had earlier on Wednesday, 23 May 2018 asked for a status report on the implementation of the Act. Kadaga said the Bill had been passed but there was no progress on its implementation, adding that "the Muslim fraternity is wondering what is happening".
Bahati said, "the Ministry has constituted a task force to formulate regulations for the tax regime applicable to Islamic banking and has made input to be incorporated into the tax Bills for the next financial year".
The purpose of the guidelines is to provide for the regulation of financial institutions conducting Islamic financial business; to provide a regulatory framework and licensing and operation of Islamic financial business.

The regulations will also ensure that financial institutions conducting Islamic financial business conduct their operations in accordance with the Sharia law.
However, the Parliamentary Forum for Islamic Banking chaired by Hon. Syda Bbumba (NRM, Nakaseke North) noted a number of gaps in the regulations that need attention before implementation of Islamic Banking.
"There are a number of gaps in the regulations. The Sharia Advisory Boards cannot be formed without trained people to manage them," she said, adding that, "we have requested the Ministry of Finance and Bank of Uganda to convene and re-examine these issues."
Hon. Latif Ssebagala (Indep, Kawempe North) added that there should be extensive sensitisation of Members of Parliament and the public about Islamic Banking.
"People who hear about this think that it is a way of exerting Sharia law yet most of the people conversant with Islamic banking are not Muslims and neither are the many countries that have adopted the system," he said.