One of the fallen AIGP Andrew Felix Kaweesi has revealed some important information about the life and legacy of his longtime friend who was killed in broad daylight about 15months back, 600 meters way from his home.
The friend who begged to remain anonymous said for the time years he had been with the Afande Kaweesi, he came to realize how special he was when it came to matters concerning professionalism and humanity.
Says since their youthful stages even before Kaweesi joined the force, his dream to transform his area and improve people's livelihood especially those from the area where he was born in Lwengo still stood till the day he breathe his last after he killed by merciless goons.
Besides talking good about his people, wife and children, Kaweesi also loved his job and worked so hard to protect it citing that unlike some officers that sailed on ranks because of close relatives in government, he never had a big brother but out of hard work, he rose to the top.
"My friend never joined police because of merely looking for a job, Kaweesi's move was more of a calling, he loved the work he did so passionately and I'm so optimistic that if he was not killed, a lot would have changed in the Uganda police Force." He said.
The Kaweesi I know respected and loved people regardless of their race or rang. He loved his job and tireless worked hard to see that the Pearl of Africa becomes a better place, Though there is nothing big information/ investigation regarding the death of my friend, his friend still believes that a lot needs to be done by government to see that Kaweesi gets justice, said our source.

It should be noted that Afande Kaweesi was one of the few top police officers who were aggressively against the issue of police brutality, torture of victims in cells and even use of excess powers including use of tear gas and rubber bullets.
AIGP Kaweesi, 43, was assassinated by unknown gunmen on March 17, 2017 alongside his driver Godfrey Wambewo and bodyguard Kenneth Erau at Kulambiro, a Kampala suburb. Kaweesi's body is said to have taken 27 bullets, his bodyguard took 33 bullets, while his driver was shot 11 times.
At least 40 people suspected to have had a role in the killings were arrested and detained in different known and unknown police and military facilities. Those that appeared in court are battling charges of murder, terrorism and robbing Kaweesi's gun and a pistol after his assassination.
October 24, 2017, senior police officers and other operatives were arrested and detained by personnel from the Chieftaincy of Military Intelligence (CMI). There has been speculation that one of the reasons for their arrest and detention was the assassination of Kaweesi. Nothing more has been officially said about this claim.
Who is Kaweesi?
Andrew Felix Kaweesi was born in 1974 at Kitwekyanjovu village, Kakoma Parish in Kyazanga Sub-county, Lwengo District. He went to Kyazanga Primary School before joining St Benard College Kiswerera in Masaka district for his O-Level.
His parents, Esther and Alphonse Mutabazi, died when Kaweesi was still young. Mutabazi left the family in the hands of relatives who could not really provide all the support.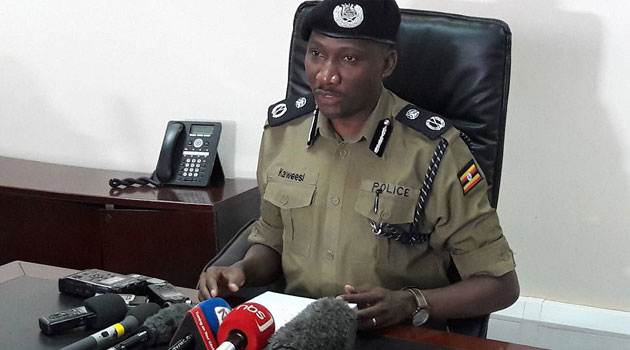 Kaweesi was adopted by Fr Joseph Mary Lukyamuzi, now a Missionary Priest in Virginia, USA, until he completed his O-Level. While leaving for missionary work abroad, Fr Lukyamuzi handed over Kaweesi to his elder brother Vincent Tikyamuweesi-Musubire who helped him to join A-Level at Kitante Hill School.
In August 1996 Kaweesi joined Makerere University to pursue a bachelors degree in Education, graduating in 2000.
At Makerere, Kaweesi was a member of the students Guild and Chairman of the Private Students' Association. In 2001 he was recruited as a police cadets and after he was passed out, he was in May 2002 posted to Ntungamo as the Officer in-charge station operations before being elevated to the position of OC Station in 2003. That same year Kaweesi was confirmed as Assistant Superintendent of Police (ASP) and posted to Masindi Police Training School as an Instructor.
In 2004, Kaweesi was elevated to the position of Deputy Commandant of the training school and was sent to South Sudan to train officers for three months and later he was sent to Somalia for the same work.
In 2005, Kaweesi was posted to Police Headquarters as the Personal Assistant to the Inspector General of Police, Katumba Wamala. Kaweesi met his wife Annet Nabwami when he visited his old school friend and colleague Simeo Nsubuga.
He also attended the National Defence College of Kenya where he graduated with a Masters in International studies and also did a course in Strategic studies in 2010 – 2011.
In 2011, Kaweesi was transferred on promotion as the first Commandant of Kampala Metropolitan Police which extends to cover areas of Mukono, Wakiso and Mpigi.
In 2014, he was transferred to the Directorate of Human Resources and later to the Directorate of Operations in 2015. He was also the spokesperson of the police by the time he was killed.