The total length of paved roads in Uganda now stands at 5,350 kilometers, compared to 987 kilometers in 1986, Finance Minister Matia Kasaija has revealed.
Kasaija attributed this to the role of the National Resistance Movement (NRM) government that has since 1986 laid firm foundation for Uganda's socioeconomic development.
While presenting the Shs32.7trillion National Budget for FY 2018/19, Kasaija said that increasing the stock of road infrastructure remains a key priority and significant progress has been made this year. Among the recently completed roads include the Fort Portal-Kamwenge and the Mbarara Bypass roads, adding a total of 107.5Kms of new paved roads to the national network.
In addition, partial works were completed totaling 806 kilometers of roads that are being upgraded to tarmac. These include; Gulu – Acholibur, 76.61 Kms, Olwiyo – Gulu Road, 42.28 Kms, Acholibur – Kitgum – Musingo Border, 78.66 Kms, Mbale-Bubulo-Lwakhakha Road, 3.15 Kms, Kabwoya – Bulima, 41.84 Kms, Kyenjojo – Kagadi – Kabwoya, 37.73 Kms, Mubende-Kakumiro-Kagadi Road, 29.76 Kms, Mpigi – Kabulasoke- Maddu Road, 60.44 Kms, Kanoni – Sembabule, 88.57 Kms, Mukono – Katosi – Nyenga Road, 67.27 Kms, Musita-Lumino-Busia-Majanji Road 32.58Kms,  Akisim -Soroti – Katakwi –Iriri 53.98 Kms, Kampala-Entebbe Express Highway 46.77 Kms, Kampala Northern Bypass Phase two, 6.74 Kms, Nakapiripirit – Moroto [incl Moroto Municipal Roads] 65.10
Kms, Ntungamo- Kagitumba/Mirama Hill road 36.48 Kms, Nshwerenkye – Rushere, 10.90 Kms, Kashenyi – Mitooma HQs & Kitabi Seminary, 3.44 Kms.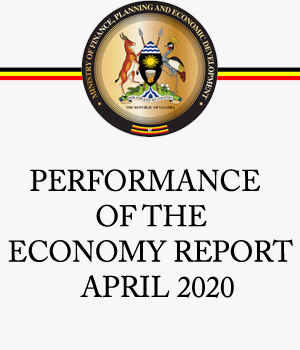 Kasaija also noted that a total of 311 kilometres of roads have been rehabilitated as at March 2018. The roads whose rehabilitation is complete among others include; Namunsi – Sironko – Muyembe (32.0 Kms), Muyembe – Kaserem in Kapchorwa (31.0 Kms), Kampala [Nansana] – Busunju (48.1 Kms) and Kamuli Town Roads (22.0 Kms).
He added that in the new FY, government will prioritize on road maintenance, in order to preserve key investments already made and also prioritize construction of 600km of Oil roads, and upgrading to tarmac of another 400 km of roads, and rehabilitation of 200km of existing roads and construction of 15 Bridges.
As a result, the Works and Transport sector has been allocated Shs4.8 trillion in the next financial year starting July 2018.