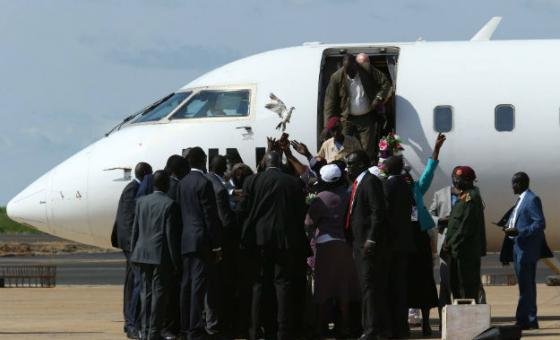 South Sudan's opposition leader Riek Machar has waved goodbye to his supporters and boarded a plane taking him back into exile in South Africa on Saturday morning.
"Ethiopia's state minister for foreign affairs had invited Dr. Riek and informed him that the HLRF has ended, but the talks will continue. They said Dr. Machar was invited to attend the face-to-face meeting with Kiir only. Machar has been asked to go back to South Africa," Manawa Peter Gakuoth, deputy head of the SPLM-IO's information committee told Radio Tamazuj this evening.
"The Prime Minister said he had promised the regional leaders that Riek would return to South Africa after attending the face-to-face meeting in Addis Ababa," he explained.
The new development comes after the opposition and the current government led by Salva Kiir expressed reservations on the IGAD peace proposal.
Machar is also expected to attend the planned face-to-face talks with President Kiir in the Sudanese Khartoum next week.

"They said Dr. Riek will go from South Africa to Khartoum for the talks," Manawa said.
Manawa, a close aide of the main opposition leader, expressed frustration over the decision taken by the region to place their leader under forced detention.
South Sudan's rebel chief Riek Machar has been under house arrest in South Africa since late 2016.
Radio Tamazuj