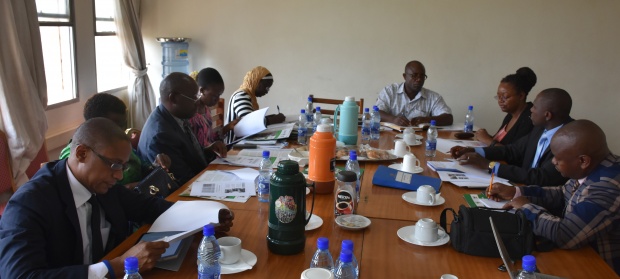 M/s Hellenar's Restaurant and Bar, a catering service provider at Parliament has lost a new contract bid.
The restaurant has been offering foods and drinks service to the MPs and staff at the Parliamentary canteen for close to five years.
However, last month, procurement department at parliament announced fresh bids to look for a new service provider to catering services for MPs and staff at the main Parliament building and associated locations on framework for two years.  This is after the contract of Hellenar's Restaurant and Bar expired.
It has emerged that during the open domestic bidding process, Hellenar's Restaurant and Bar lost the bid to      M/s Romeo's Restaurant and Bar Limited that emerged the best evaluated bidder.
According to the Best Evaluated Bidder Notice issued by Okello Obabaru, Deputy Clerk in charge of Corporate Affairs, Ntinda based M/s Romeo's Restaurant and Bar offered lowest price of Shs11,500 for the MPs' buffet menu, while the only remaining responsive bidder, M/s Hellenar's Restaurant and Bar offered Shs13,500.

Whereas Hellenar's Restaurant and Bar had become famous for serving delicious local dishes, things started falling apart after MPs alleged that there is fear that wrong people are taking advantage of lax administration to poison them.
In March this year, Dokolo Woman MP Cecilia Ogwal, also parliamentary commissioner tasked MPs to take keen interests in the administration of the environment of parliament, adding that it was glaring that some elements are targeting MPs through poisoning.
"The issue of food poisoning or poisoning is not new in this parliament. There are times when reports were officially made to the Speaker for attempted poisoning of some members. That matter was shelved for they thought it would embarrass the image of parliament, but however much it embarrasses us, let's talk about it," Ogwal who is a senior legislator said.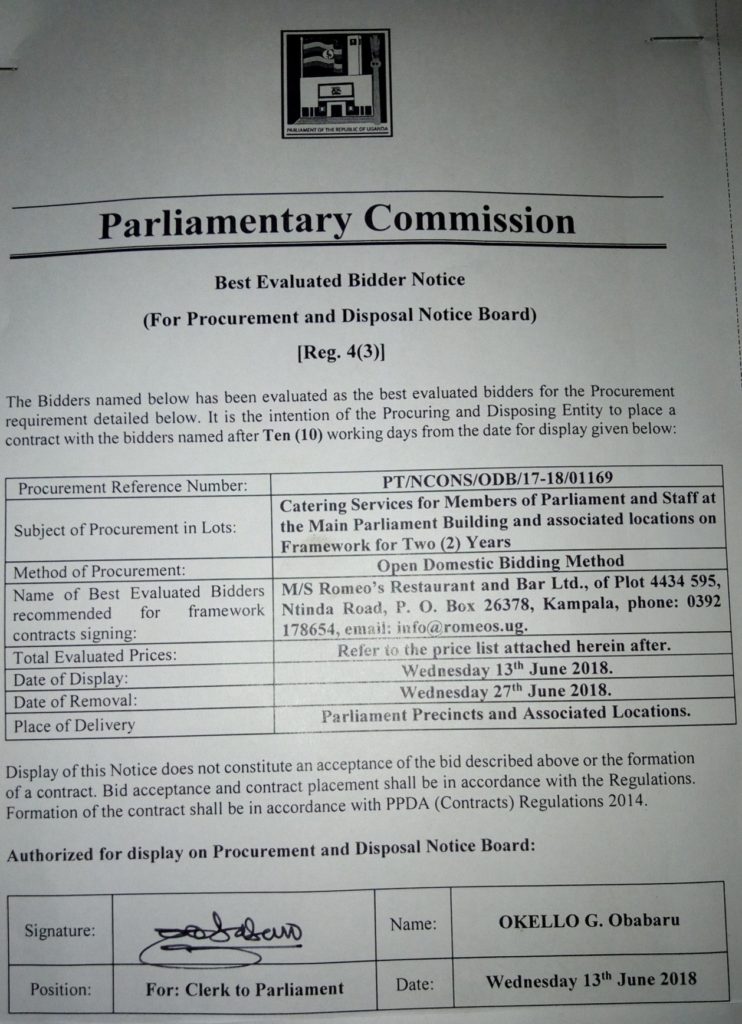 "Let's know how our people are being poisoned, whom can we trust and where can we go. We have decided that we eat from our own restaurant and relate with ourselves, but now it's being proved that even the environment we live in is not safe. It's important we know the administration of our restaurants, know the people who handle our food," Ogwal added.
The latest MPs who have been victims of alleged poison include;
 Minister of State for Primary Health Care Dr. Joyce Moriku Kaducu and Budiope East MP Geoffrey Dhamuzungu. However, it remains unverified on if the mentioned MPs were actually poisoned from the parliament canteen.