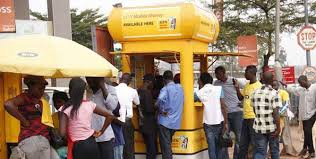 The mobile money agents under their association, Kampala mobile money association have together agreed to petition the speaker of parliament over the new mobile money tax on Thursday.
The members of this association have agreed to march to parliament on Thursday and talk to the speaker and convince her to eliminate the tax because they have incurred great losses since the tax was implemented.
According to members of this association, they argue that very few people are using mobile money taxes due to the expensive transaction costs incurred and the high tax. The mobile money agents say that people are now resorting to banking the money or taking it to the person supposed to receive it.

As according to the tax proposals contained in the Excise Duty Act of 2018, "A tax of 1 per cent of the value of the transaction will apply on mobile money transactions on receiving money, sending money, making payments and withdrawals of money". This precisely means that 1 per cent of the value of your money will be deducted every time you use your mobile money account.
It should be noted the  government of Uganda projects to raise substantial revenue this financial year 2018/2019 from implementing the new social media tax and a levy on mobile money transactions.