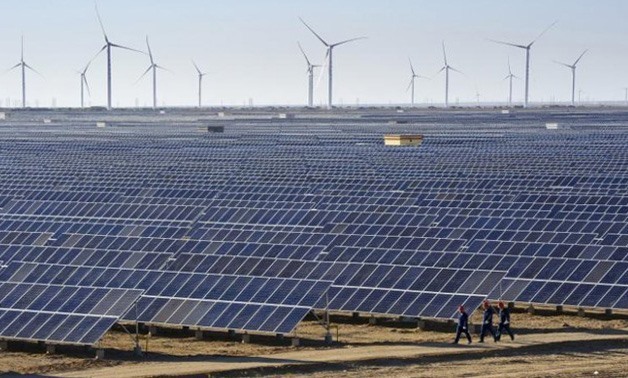 Qalaa Holdings, an African leader in energy and infrastructure, announced today that energy subsidiary TAQA Arabia, the largest private sector energy distribution company in Egypt, is well on its way to completing construction on its first solar energy project — a 50 MW photovoltaic power plant project in Benban, Aswan constructed in partnership with Hassan Allam Holding.
Commissioning and testing on the project is expected to take place before the end of the year, with the plant anticipated to become operational as soon as January 2019 and generate annual revenues of c. USD 10.8 million. It will be part of Benban Solar park, the world's largest solar park consisting of a complex of 13 solar power plants generating a total of 1,800 MW. TAQA Arabia's new venture is the latest example of Qalaa's backing of renewable energy projects in line with the Egyptian government's strategy to diversify its energy sources and the firm's overall commitment to building out Egypt's renewable energy resources.
"This project will be instrumental in helping to expand Egypt's overall power generation capacity and to shift its energy consumption to the use of various renewable sources such as wind, solar and bioenergy," said TAQA Arabia CEO, PakinamKafafi. "The project will also help to expand TAQA's scope as an integrated energy distributor and operator in fields including power generation, gas distribution, petroleum products marketing and renewable energy," she added.
The project, which was announced at the end of 2017, carries an investment cost of US $75.3 million and has secured a financing package created in partnership with five international development funds headed by the International Finance Corporation (IFC).
According to Managing Director of Hassan Allam Holding Group Amr Allam the plant, once operational, will have a generated energy capacity of 154 million KWh per year and produce estimated annual carbon emission of only 65,731 tons per year. The plant will be connected to Egypt's national electricity grid as part of the second phase of the Egyptian government's feed-in tariff program, and all electricity generated will be fully sold to the Egyptian Electricity Transmission Company (EETC).

"We are very pleased to have broken ground on our first solar power plant and to contribute to Egypt's effort to diversify and increase the sustainability of its energy sources. As a subsidiary of Qalaa Holding, TAQA Arabia is committed to investing in projects that align with the SDGs and contribute to inclusive and sustainable economic development," said TAQA Arabia Chairman, Khaled Abu Bakr.
Qalaa Holdings has long pursued a triple bottom-line investment strategy that aims to achieve positive environmental and social outcomes in addition to strong financial returns. To absorb the impact of the energy crisis, Qalaa has been investing in alternative sources of clean energy.
Qalaa's subsidiaries in the energy sector are: TAQA Arabia, Tawazon, and Egyptian Refinery Company (ERC). Together, these companies cover energy generation and distribution, the development waste to energy solutions, and the refining of low quality petroleum into medium and light distillates such as the clean-burning Euro V diesel. Qalaa's subsidiary GlassRock is also a leading producer of the energy-efficient insulation materials, glasswool and rockwool.